The Afghans We Left Behind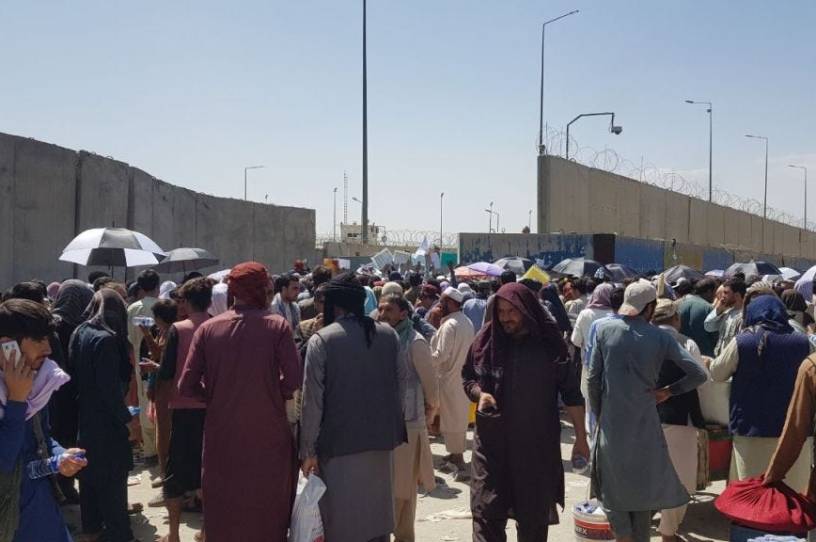 During one of her many evacuation attempts between the fall of Kabul on August 15 and the American military retreat on August 31—"Don't ask about the dates, because I have no idea"—Ellaha, a U.S. green card holder, plunged into a crowd of thousands of refugees in a last-ditch effort to reach Hamid Karzai International Airport along with her elderly mother.
"Suddenly this mob was squeezing us and pushing us," Ellaha, who asked that her surname be withheld, told The Dispatch. "That's why when these kids are being separated, I totally understand what sort of trauma they have gone through and experienced, because my mom and I, as adults, we couldn't bear that mob—how panicked they were, how traumatized. Everyone was so scared and afraid and just wanted to get out of Kabul." 
The pair never reached the airport gates. Ellaha's mother, who suffers from a heart condition, could not withstand the chaos surrounding Afghanistan's last exit route. Ellaha recalled being pushed, kicked, and trampled by desperate evacuees before abandoning any hope of reaching the airport on foot. In the days that followed, Ellaha made the impossible decision to flee her home country alone to advocate for her mother's rescue from afar. 
U.S.-designated handlers transported Ellaha to the safety of Kabul's airstrip just hours before an Islamic State suicide bombing killed 13 U.S. servicemembers and at least 170 Afghan civilians, suspending the military's evacuation. The impromptu two-week mission, which President Joe Biden hailed as an "extraordinary success" upon its abrupt conclusion, left behind "hundreds" of Americans, many more U.S. permanent residents, and hundreds of thousands of at-risk Afghans.
You're out of free articles
Create an account to unlock 1 more articles