The Allegations Against the Bidens, Explained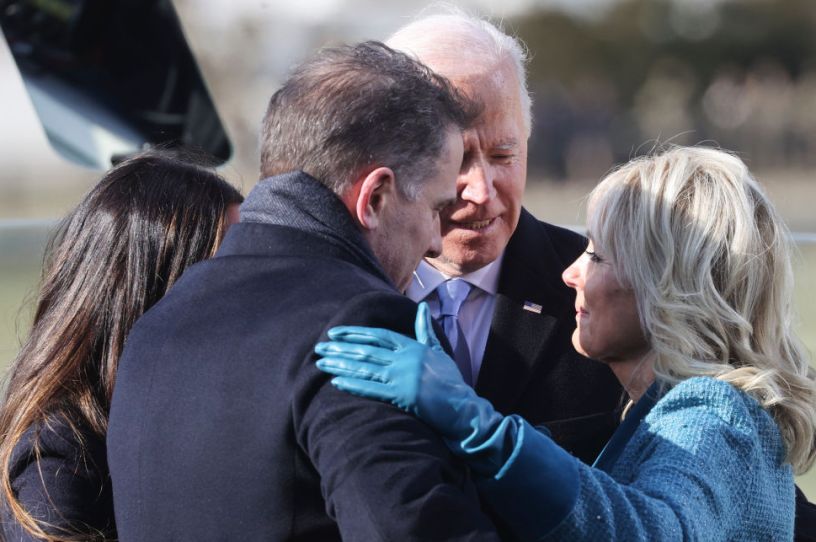 President Joe Biden embraces his family a during his inauguration at the the U.S. Capitol on January 20, 2021, in Washington, D.C. (Photo by Jonathan Ernst-Pool/Getty Images)
The yearslong federal investigation into Hunter Biden has ramped up significantly in recent months, culminating in Attorney General Merrick Garland appointing Delaware U.S. Attorney David Weiss as a special counsel last week. And investigations by House Republicans have resulted in a steady drip of information related to the extended Biden family's business dealings and influence peddling both during and after Joe Biden's two terms as vice president.
There's plenty of evidence pointing to unethical—and even criminal—behavior by members of the Biden family, but House Republicans have also regularly gotten out over their skis, promoting unreliable sources and making explosive claims that are not yet supported by the evidence they've collected. That said, many of the reports in recent weeks about Hunter Biden's activities are reliable, either because Hunter and his legal team have conceded they are true—Hunter admitted in court last month he had made money from China, directly contradicting previous denials from his father—or because they are based on legitimate documents or testimony delivered under the penalty of perjury.
As the Justice Department's investigation into Hunter Biden reaches a new phase—and Republicans weigh launching an impeachment inquiry into his father—we thought it would be useful to provide an overview of where things stand and, to the extent possible, an evaluation of the credibility of the various allegations against the first son and his high-profile family.
Criminal Conduct
Hunter Biden
Tax and gun law violations. Hunter Biden's lawyers first reached a plea deal with federal prosecutors in June, hoping to wrap up the broader investigation into their client—which began during the Obama administration and has been led by Weiss since 2018. (Although Weiss was nominated for his post by former President Donald Trump, the prosecutor was recommended by Delaware's two Democratic senators, Chris Coons and Tom Carper, under the Senate's "blue-slip policy.")