The Biden Family's Legal Woes, Explained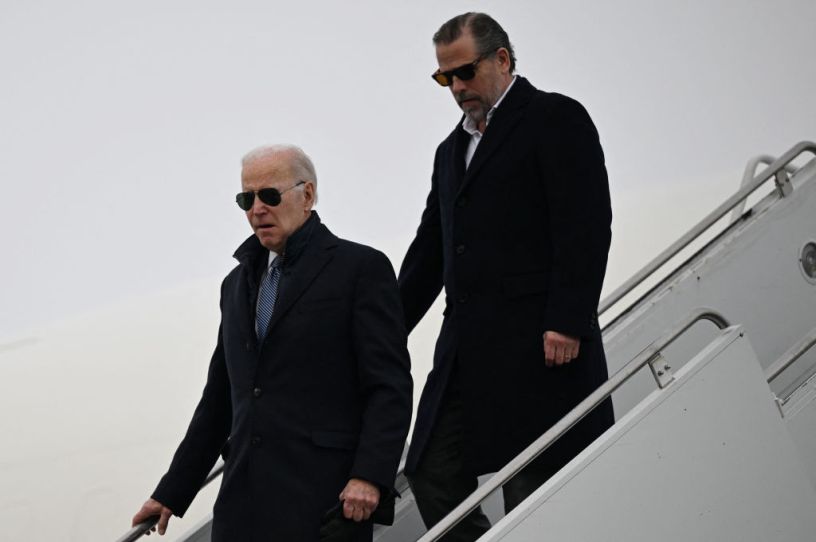 President Joe Biden and son Hunter arrive at Hancock Field Air National Guard Base in Syracuse, New York, on February 4, 2023. (Photo by ANDREW CABALLERO-REYNOLDS/AFP via Getty Images)
Rep. James Comer walked into a media briefing room inside the U.S. Capitol Wednesday morning and announced to reporters that the House Oversight Committee has made "astonishing progress" in its investigation of the Biden family's business deals.
"I want to be clear," he said. "This committee is investigating President Biden and his family's shady business deals that capitalized on Joe Biden's public office and risked our country's national security."
Over the course of the next hour, Comer, who chairs the committee, and fellow Republicans on the panel pontificated about the contents of the 36-page memo they released laying out "evidence indicative of influence peddling and financial deception" by members of the Biden family.
Comer and his colleagues haven't yet presented evidence tying Joe Biden to the dubious financial transactions of his family members. But Wednesday's memo is another log on the fire of the scandals and legal worries of Biden's son Hunter, who is also under investigation by the Department of Justice.
You're out of free articles
Create an account to unlock 1 more articles