The COVID Nursing Home Crisis Was 50 Years in the Making
As the coronavirus pandemic spread throughout the world this year, we quickly learned that the elderly, and particularly those with pre-existing conditions, are especially at risk of severe complications and death from COVID-19. It's no wonder that those living in long-term care settings are perhaps the most vulnerable group in society.
Our research at the Foundation for Research on Equal Opportunity shows staggering numbers. There are 5.1 million elderly and disabled individuals who live in long-term care facilities, including nursing homes and assisted living facilities. These individuals represent only 1.6% of the population, but as of May 22, they account for 43% of all COVID-19 deaths in the U.S. And this is likely an undercount; excluding New York state (where COVID-19 nursing home fatality figures do not include those residents who die in the hospital), the average across all remaining states is 53 percent. Based on this metric, those hardest hit include Pennsylvania (69 percent), Ohio (70 percent), New Hampshire (70 percent), Rhode Island (77 percent), and Minnesota (81 percent).
We can also analyze fatality data in long-term care facilities by looking at the number of residents who have died as a share of the total population in those facilities. The fatality rates in the northeast are particularly grim. Coronavirus deaths per 10,000 residents in Massachusetts and Connecticut stand at 703 and 827, respectively. And at 954 fatalities per 10,000 residents, nearly 10 percent of all long-term care residents in New Jersey have died from COVID-19.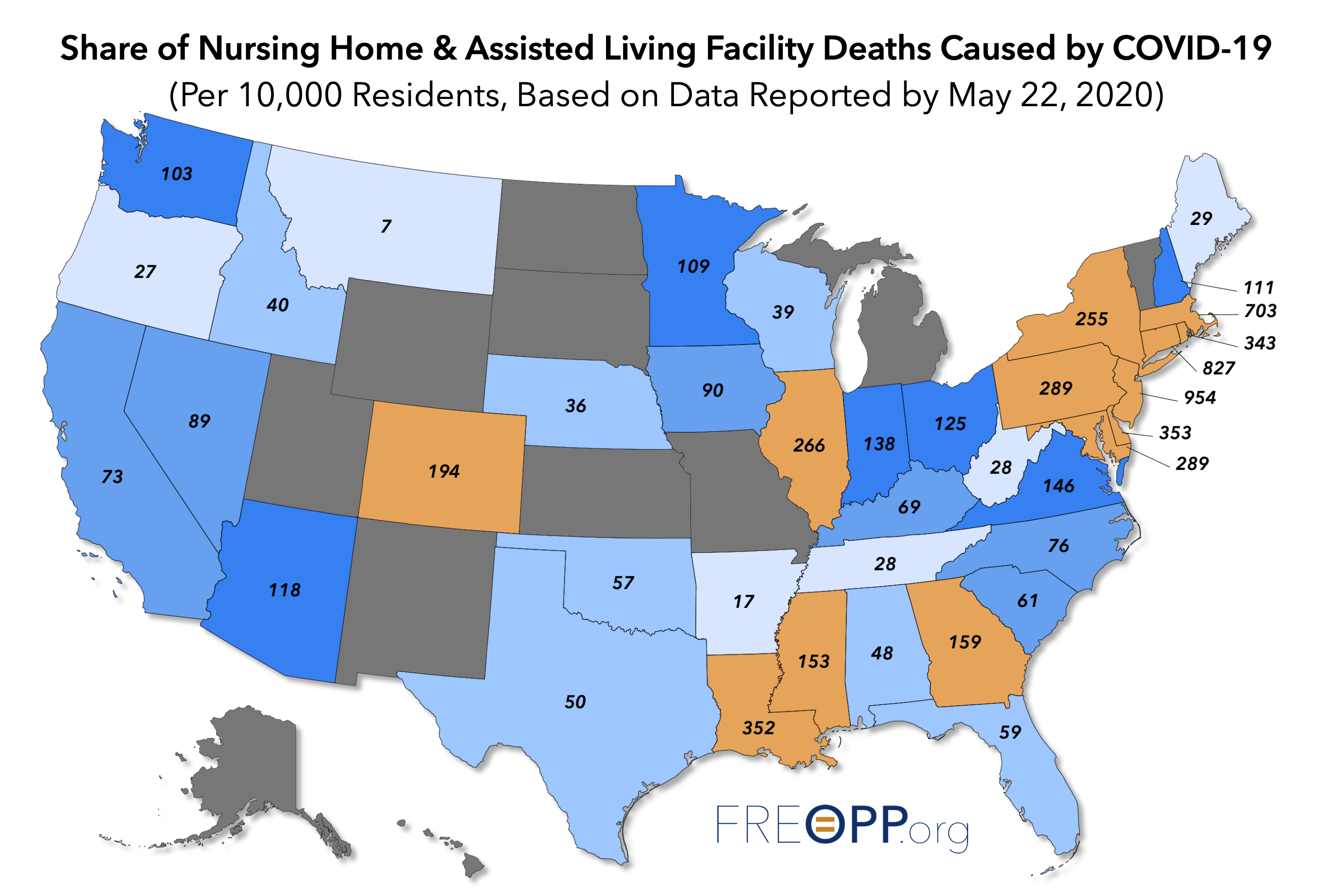 The U.S. is not an outlier for nursing home-related deaths due to COVID-19. Researchers at the International Long-term Care Policy Network found that of all fatalities in Australia, Belgium, Canada, Denmark, France, Germany, Hong Kong, Hungary, Ireland, Israel, Norway, Portugal, Singapore, and Sweden, half were nursing home residents.