The D.C. Border Town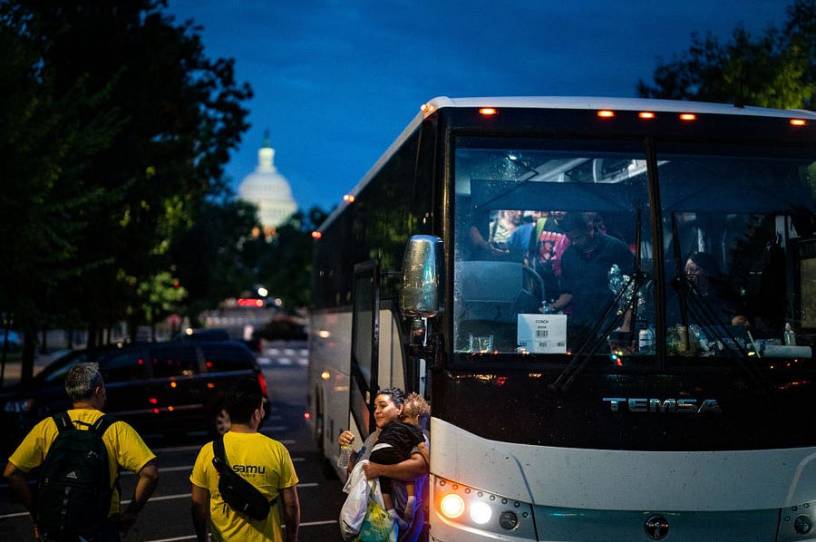 Five kids in rumpled sweatpants and oversized sweatshirts step off a bus within view of the U.S. Capitol. A couple of them, hovering near their parents, flash shy grins and wave at a man hefting a news camera. 
About 35 adults lumber off the bus too. No one carries luggage: A few shoulder small drawstring backpacks. Others grip plastic bags. Many carry large manilla folders stuffed with immigration paperwork. 
Only a handful of strangers wait to welcome the bus that departed Laredo, Texas, 36 hours before—five volunteers, two employees with the nonprofit SAMU First Response, and a smattering of reporters. Volunteers step forward to greet migrants: "Hola! Buenos días!"
It's been four months since Texas Gov. Greg Abbott first sent a bus bearing migrants toward D.C. to draw attention to high levels of attempted crossings at the U.S.-Mexico border. He recently boasted of sending some 10,000 migrants toward the capital, New York City, and Chicago. In May, Gov. Doug Ducey of Arizona launched a similar program and has transported more than 1,500 migrants to D.C. Abbott specifically targeted sanctuary cities—those with laws discouraging local law enforcement from cooperating on deportations with Immigration and Customs Enforcement (ICE)—as well as those with Democratic mayors.