The Ghost of Defund Comes for Rashida Tlaib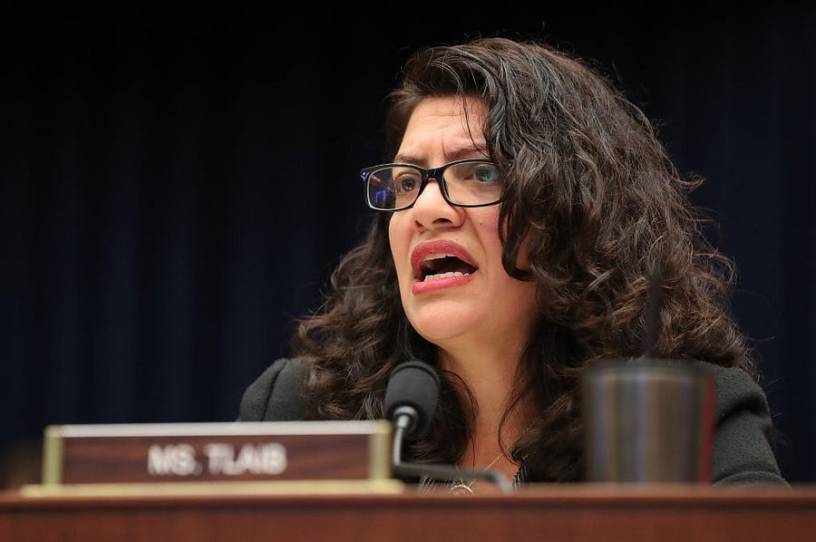 Among the most important tools in a politician's toolbox is the ability to dodge an unflattering question. In an interview segment released Monday, Rep. Rashida Tlaib (D-Michigan) offered a textbook case study in how not to do it.
In the interview, Axios's Jonathan Swan pressed Tlaib on the BREATHE Act, a bill authored by the social-justice coalition Movement for Black Lives and backed by Tlaib and fellow "Squad" member Ayanna Pressley, among others. Swan noted that the proposal would empty federal prisons—home to about 12 percent of prisoners nationwide—within a decade of passage. 
Tlaib denied this ("Everyone's like, 'Oh my God, we're going to just release everybody'"), but the bill's text clearly instructs the federal Bureau of Prisons to cut the prison population in half within five years and attain "complete decarceration" within 10, in addition to "physically closing all federal prisons." Pressed further, Tlaib hemmed and hawed, insisting that the real problem was providing mental health and drug addiction care, while never quite coming out against freeing thousands of drug traffickers, weapons offenders, and other serious criminals in federal detention.
Tlaib's awkward performance has prompted (rightful) ridicule on social media. But her obvious discomfort with a bill she endorsed only a year ago reveals an important shift in the political winds. As violent crime has soared, public support for radical proposals like the BREATHE Act has ebbed. That's left progressive Democrats in an awkward position, unwilling to back down from their beliefs, but aware that they erred in showing their hand so quickly.