The Navy's Moves in the Eastern Mediterranean, Explained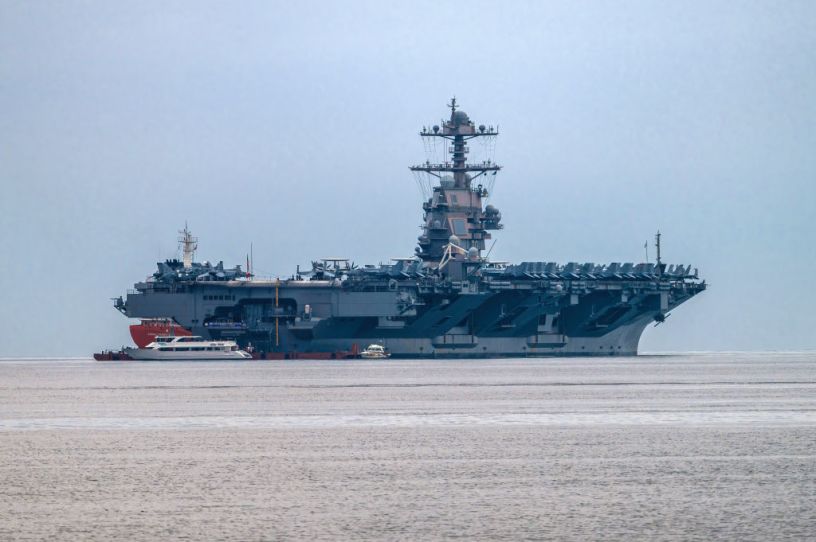 U.S. Navy aircraft carrier USS Gerald R. Ford anchored at the Gulf of Trieste. The USS Gerald R. Ford is the largest warship in the world. (Photo by Andrej Tarfila/SOPA Images/LightRocket/ Getty Images)
Earlier this week, Secretary of Defense Lloyd Austin ordered the USS Gerald R. Ford carrier strike group (CSG) to the eastern Mediterranean to "strengthen Department of Defense posture in the region to bolster regional deterrence efforts…" in response to the terror attacks on Israel. It wasn't an uncommon move. Moving aircraft carriers and escort ships to trouble spots around the world has been a preferred response option for U.S. presidents since carrier aviation debuted in World War II. Naval forces operate in international waters and airspace without need for basing agreements or overflight permissions. 
So what is the Ford CSG, and what is it expected to do?
What is a carrier strike group?
A U.S. Navy CSG is comprised of a nuclear-powered aircraft carrier (in this case, the USS Gerald R. Ford), its embarked carrier air wing (CVW) of strike-fighter aircraft, surveillance aircraft, helicopters, and several combatant warships capable of firing both offensive and defensive missiles. The ships accompanying the carrier are the Ticonderoga-class guided missile cruiser USS Normandy, as well as four Arleigh-Burke-class guided missile destroyers: the USS Thomas Hudner, USS Ramage, USS Carney, and USS Roosevelt. The U.S. Navy maintains two or three CSGs at sea continuously, time-sharing among the U.S. European Command (EUCOM), the U.S. Central Command (CENTCOM), and the U.S. Indo-Pacific Command (INDOPACOM) to protect and sustain U.S. interests around the world and to act as part of the joint force in the event of war. The Navy has 11 active aircraft carriers, each of which deploys as the center of a CSG.
You're out of free articles
Create an account to unlock 1 more articles