The New January 6 Scapegoats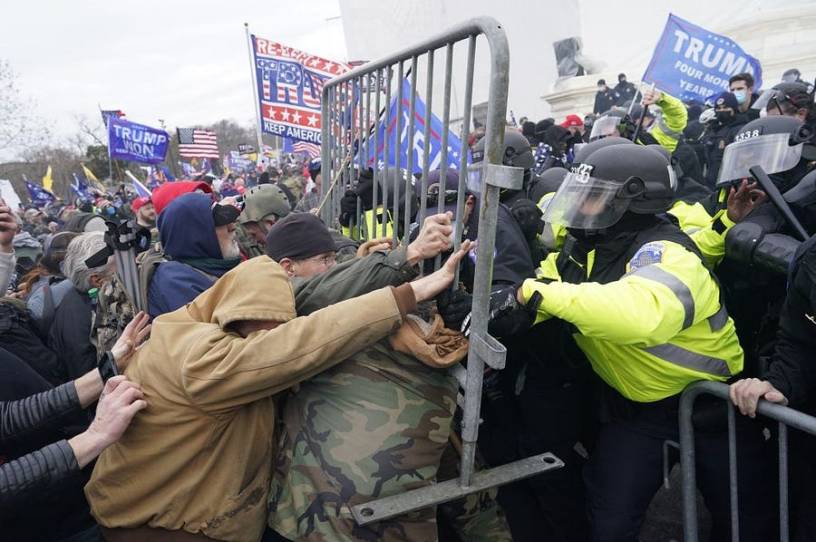 In the wake of months of "Stop the Steal" rhetoric from Donald Trump and his allies, the January 6 assault on the U.S. Capitol was a sudden and shocking wake-up call for a GOP that had spent six months calling its opposition the party of political violence. So it was no surprise that new lies to blunt the cognitive pain began to spring up almost before the rioters had even left the building. False claims spread like fire across pro-Trump social media—and, later, across Fox News and even the U.S. House—that the real troublemakers had not been MAGA stalwarts, but Antifa interlopers. Such was the balm this narrative offered the Trumpian soul that even those who had stormed the Capitol themselves were repeating it in interviews with reporters by the following day.
The "It was Antifa" theory, based on blurry photos of misidentified tattoos and a Washington Times story that made quickly retracted claims about AI facial recognition, soon fell apart and was quietly abandoned by its most prominent proponents. Recently, however, a new narrative has begun to gain steam among the same crowd: the real ringleaders of the 1/6 violence may in fact have been undercover federal agents.
Here's Tucker Carlson, host of the most-watched show on cable news, on Tuesday: "FBI operatives were organizing the attack on the Capitol, on January 6, according to government documents." Here's Rep. Marjorie Taylor Greene reacting to that segment on Twitter: "We need names and answers about the FBI operatives, who were involved in organizing and carrying out the Jan 6th Capitol riot." And here's Rep. Louie Gohmert making the same claim Thursday on the House floor: "We don't like to see government agents stirring up trouble, or finding that there are criminal acts that would not likely have occurred had not the federal government been participating. … This is not only third-world stuff, this is like Putin kind of activity."
It's a remarkable charge: 1/6 was an inside job! You can see why Darren Beattie—the Revolver News writer behind the story, who appeared on Tucker's show to discuss it—told the host, with an apparent lack of irony, that "I'm hearing from people that this is the most important and the darkest investigative piece they've seen in years." One of those people is Beattie himself, who in the piece describes his own work as a "ground-breaking report" and a "seismic exposé."
You're out of free articles
Create an account to unlock 1 more articles