The Next Issue in Family-Focused Public Policy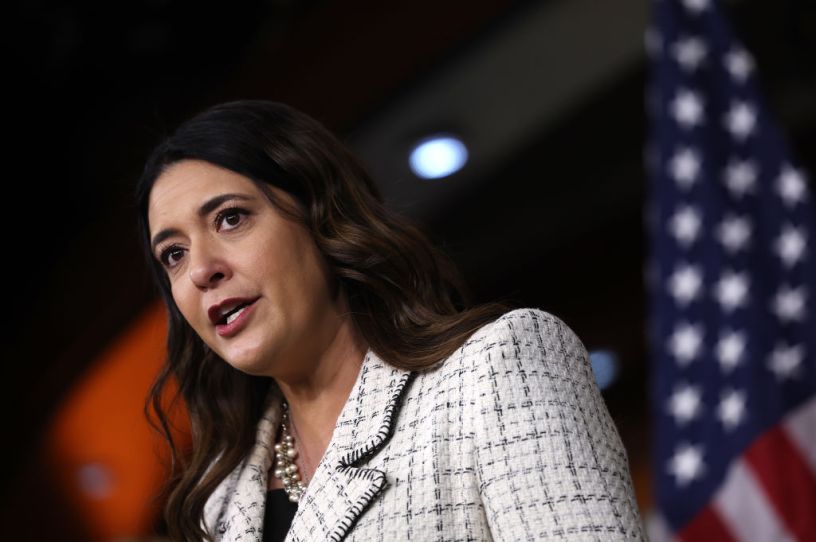 U.S. Rep. Stephanie Bice speaks at a press conference on January 25, 2023. (Photo by Kevin Dietsch/Getty Images)
Most conversations about family-related public policy focus on the 1997-era Child Tax Credit (CTC), a rebate for tax-filers based on the number of children they have. But a bipartisan working group in the House is beginning to coalesce around something new—sort of.
Led by Oklahoma Republican Stephanie Bice and Pennsylvania Democrat Chrissy Houlahan, the six-member group is intent on crafting a national program of paid family leave. It would provide funds to pay working parents for a set number of weeks following the birth of a child—something many employers choose to do but is far from universal. Such a policy could be less expensive and potentially more popular than expanding the CTC to $3,600/year: According to a recent poll, while 67 percent of voters support six weeks of federal paid leave for new mothers, only 49 percent support a CTC benefit of $3,600/year or more.
Proponents also say parental leave—and especially maternity leave—could solve a more specific problem by making it easier for parents to spend time with a newborn immediately after birth, which has been shown to improve child and maternal health outcomes. (A 2020 policy brief from the Institute for Family Studies argues that while there may be other benefits to paid parental leave—including stabler marriages and closer connection to employment for parents—policymakers should keep child and maternal health front of mind since that's where the evidence is strongest.)
Paid leave has been talked about in D.C. for years by both parties at separate times, with scant agreement over how to structure or pay for a program. But Bice and Houlahan think starting with a "clean slate" and approaching the issue in a bipartisan manner could provide enough momentum to get something done.
You're out of free articles
Create an account to unlock 1 more articles