The Pennsylvania GOP's Pushover Primary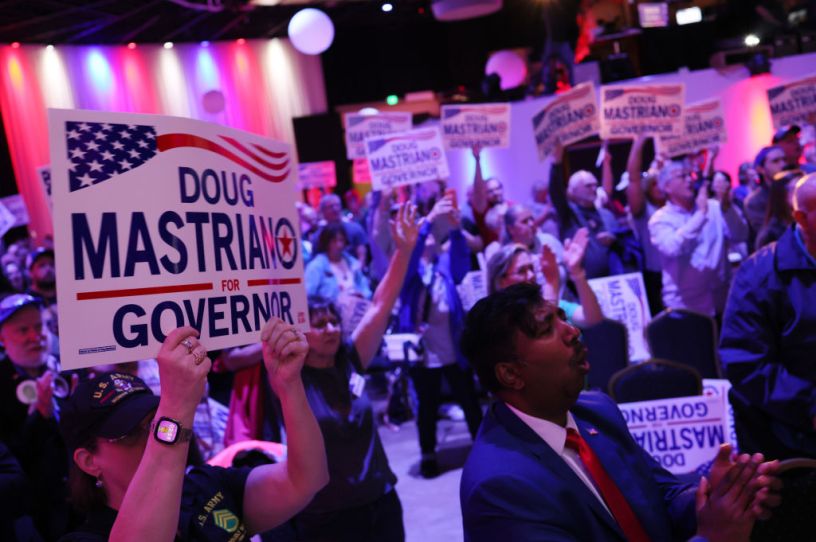 People clap as Doug Mastriano finishes speaking during a campaign rally in May. (Photo by Michael M. Santiago/Getty Images)
Following Democrats' midterm sweep of Pennsylvania's open Senate and governor seats, Republican operatives, consultants, and elected officials across the state are frantically searching for someone to blame.
The primary targets are the Republican candidates themselves, both of whom were endorsed by former President Donald Trump and lost by wide margins in what's normally a battleground state: Dr. Mehmet Oz, who lost the Senate seat by 5 points, and far-right state Sen. Doug Mastriano, a 2020 election-denier who lost the gubernatorial race by 14.
But many GOP county chairs and political operatives insist the party's problem wasn't just the candidates themselves. It was also the party's unwillingness to squelch ultimately unelectable candidates and the support they got from the populist right. Now they're urging state GOP leaders to consider new ways for nominating a competitive challenger to Democratic Sen. Bob Casey in 2024.
One solution is for the party to adopt a runoff system, whereby a candidate would have to secure a majority of votes to win the party nomination. Leaders at Commonwealth Partners Chamber of Entrepreneurs, a key player in Pennsylvania GOP politics, are already urging state party leaders and elected officials to consider the move in the primary election, The Dispatch has learned.