The Scramble to Resettle Allies from Afghanistan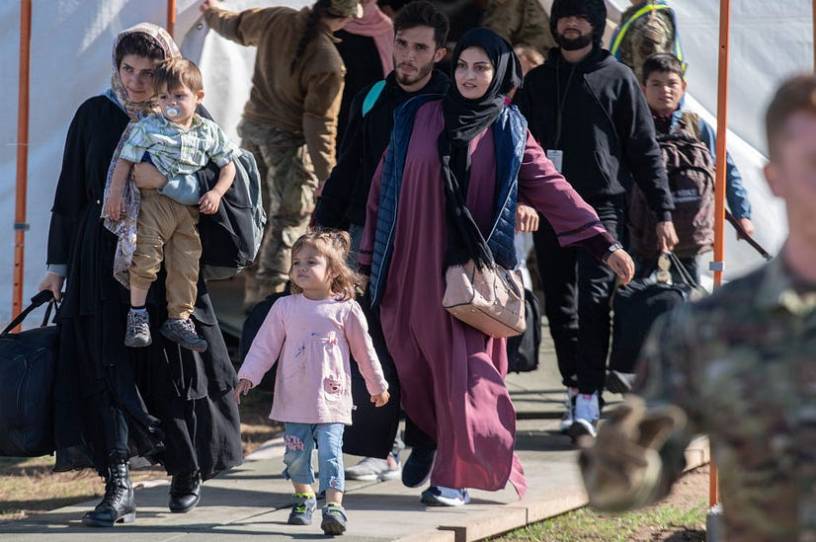 Hosai Barakzay is no stranger to harrowing experiences. Through her work for the U.S. mission in Afghanistan, Barakzay traveled to each of her home country's 34 provinces—including remote and impoverished areas—to monitor often overcrowded and under-funded facilities like prisons and children's shelters. But in the days following the Taliban's takeover of Kabul last August, Barakzay and her parents' efforts to depart the country and evade retaliation without assistance from the U.S. government surpassed anything she had witnessed in the line of duty. 
"It was unimaginable," Barakzay, 23, said of her family's first attempt to reach the guarded perimeter of Hamid Karzai International Airport. "All roads were blocked. People were in so much despair … our parents had very bad experiences of living under the Taliban government."
Despite their approval by the U.S. State Department for the Priority 2 refugee program created to relocate at-risk Afghans, Barakzay's mother and father were left behind and remain in hiding in Afghanistan. Barakzay—who was eligible for a special-immigrant visa (SIV)—was eventually able to escape on the final day of the U.S. military's evacuation through the intervention of her Bangladesh-based university. 
For Mansoora Sharifi, one of Barakzay's travel companions and a member of the historically persecuted Hazara ethnic minority group, the evacuation itself unfolded in a nightmare-like, days-long saga. When Taliban fighters took over Kabul, it took Sharifi four hours to get from her office to her home—a trip that normally takes a half-hour—due to the chaos on the streets. As she sat in a car with her co-workers, she felt as if "I had just seen this kind of situation in a zombie movie. People are running, crashing their cars, [everyone is] scared."