The Strange Case of Guo Wengui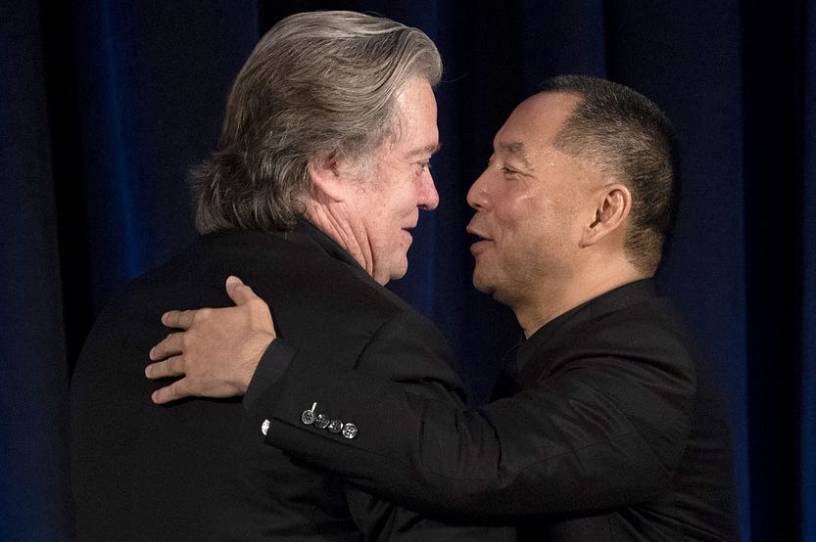 With the November election now just days away, the Trump campaign's closing political play—trying to portray Joe Biden as corrupt by releasing reams of damaging information about his son Hunter—is in full swing. Earlier this month, Trump's former advisor Steve Bannon and personal attorney Rudy Giuliani produced a laptop hard drive they claimed belonged to the younger Biden, and have been rolling out embarrassing content purportedly from it ever since. Last week, it was emails meant to show Hunter trading on his family name in foreign business deals. Then, over the weekend, sexually explicit videos and photos—ostensibly from the same hard drive, and seemingly including Hunter and various women—were published as well.
But unlike the first round of allegations, which were published in the New York Post, these videos were not leaked to traditional Trump-friendly media outlets. Instead, they were published online by a company few Americans had ever heard of: GTV Media Group, co-founded this year by Bannon and a Chinese expat billionaire, Guo Wengui.
Astute observers linked Guo to the bombshell story weeks ago, after associated Twitter and YouTube accounts leaked its contents ahead of the New York Post. In late September, almost a full three weeks before the Post released its story, a YouTube channel associated with Guo foreshadowed the upcoming release of the hard disks. Three days later, Himalaya Global (an advocacy group linked to Guo) sent a tweet with a similar message: "Bombshell… 3 hard disk drives of videos and dossier of Hunter Biden's connections with the Chinese Communist Party (CCP) have been sent to Nancy Pelosi and DOJ.  Big money and sex scandal!". A few days before the New York Post story dropped, a Twitter account shared a picture of Guo and Rudy Giuliani smoking cigars together. 
Formerly one of China's richest businessmen, Guo fled the country in 2014 in anticipation of charges of corruption, fraud, blackmail, and bribery—charges he insists are trumped-up and political. Since then, he has marketed himself to Western audiences and politicians as an outspoken critic of the Chinese Communist Party and whistleblower on the practices of its officials. But his activities in the United States raise red flags about the authenticity of his self-assigned dissident status. First, Guo—who also goes by several other names, including Miles Guo and Miles Kwok—is currently under investigation for charges of rape, defamation, and fraud in the United States. Another oddity: Guo regularly attacks Chinese human rights activists online, levelling conspiratorial accusations against some of the CCP's most prominent critics.