The Supreme Court's Pending Immigration Case, Explained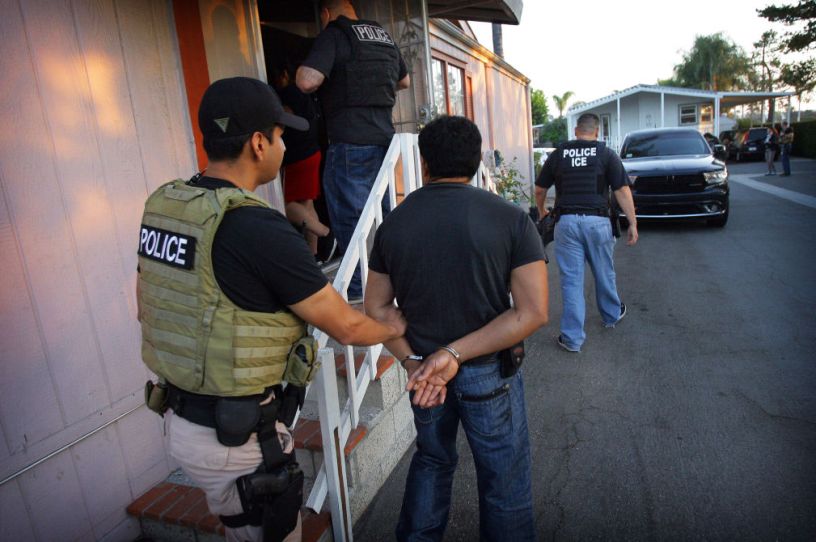 A suspect is taken into custody after members of ICE made an arrest in 2016. (Photo by Kurt Miller/The Riverside Press-Enterprise via Getty Images)
By the end of the month the Supreme Court will hand down a decision in an immigration dispute between the Biden administration and individual states that could boil down to the meaning of the word "shall."
In United States v. Texas, at question is whether the executive branch can issue narrow guidelines for detaining or deporting immigrants in the country illegally, whether states can challenge the executive branch on immigration enforcement, and whether the courts can universally nullify federal agency action.
The controversy dates back to a September 2021 memorandum issued by Department of Homeland Security Secretary Alejandro Mayorkas stating that federal immigration authorities should prioritize for detainment or deportation three categories of illegal immigrants: suspected terrorists, those otherwise a threat to public safety, and recent illegal border crossers.
Some Republican-led states strongly objected to those guidelines and sued. A U.S. district judge in Texas agreed with Texas and Louisiana (who sued over the memo) and vacated the policy last June, preventing the Biden administration from implementing the memo. The Supreme Court rejected an appeal to let the administration move ahead with the policy while the government appealed, but the justices agreed to take up the case even before the court of appeals weighed in. Since then, several other states have filed amicus briefs.