Thousands March for Israel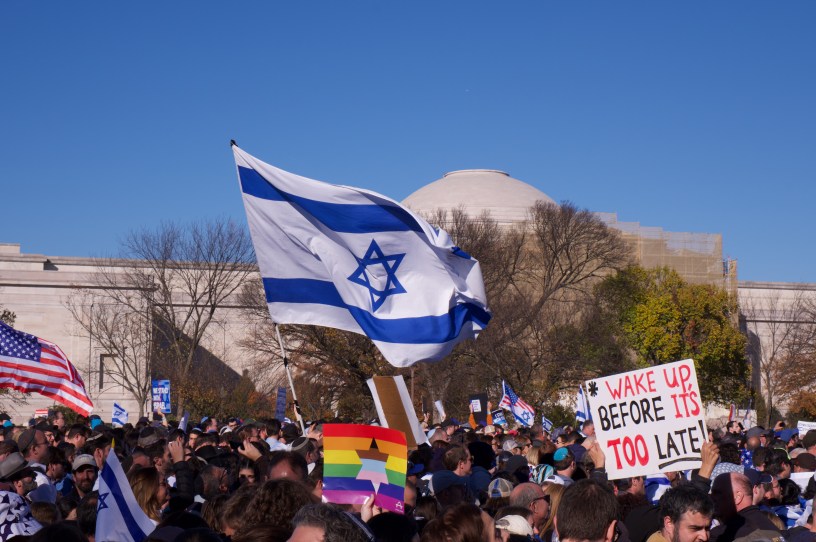 Thousands of people marched on the National Mall to support Israel and denounce antisemitism. (Photograph by Charlotte Lawson.)
WASHINGTON—Peaceful demonstrators gathered at the National Mall on Tuesday in an unprecedented display of support for Israel and Jewish communities across the globe. Some 40 days after Gazan terrorists killed an estimated 1,200 people, speakers addressing what is believed to be the largest pro-Israel rally in American history called for solidarity with the embattled country.
The March for Israel—organized by a coalition of Jewish groups across the country—came as Jewish people have had to contend with a rising global tide of antisemitism. The Anti-Defamation League reported Monday that 832 antisemitic incidents—including assault, vandalism, and harassment—took place in the U.S. alone in the month following Hamas' attack in Israel, up from 200 during the same period last year. With yesterday's rally, attendees were trying to send a message to perpetrators of such hate: We will not be cowed into silence.
"I want the rest of America to know that Jews are strong and are not going to back down," David Sultan, a Jewish resident of Massachusetts and Harvard alumnus, told The Dispatch, expressing his concern about the antisemitism taking hold at his alma mater and on other college campuses across the country. "Part of being in higher education is understanding and looking at issues in a thorough way, and I haven't seen that at all. It's just very disheartening. I feel very bad for the Jewish kids on campus."
That tension was present ahead of the gathering, which came 10 days after a large pro-Palestinian rally in Washington culminated in several acts of vandalism and antisemitic slogans being chanted by some attendees. In anticipation of possible violence at Tuesday's rally, Homeland Security Secretary Alejandro Mayorkas on Monday labeled it a "level one" security event, the highest such designation. D.C. Mayor Muriel Bowser requested assistance from the National Guard, which secured the area along with metropolitan police. Fencing and security checkpoints surrounded the perimeter of the mall.
You're out of free articles
Create an account to unlock 1 more articles