Trump's China Trade Deal Was Designed to Fail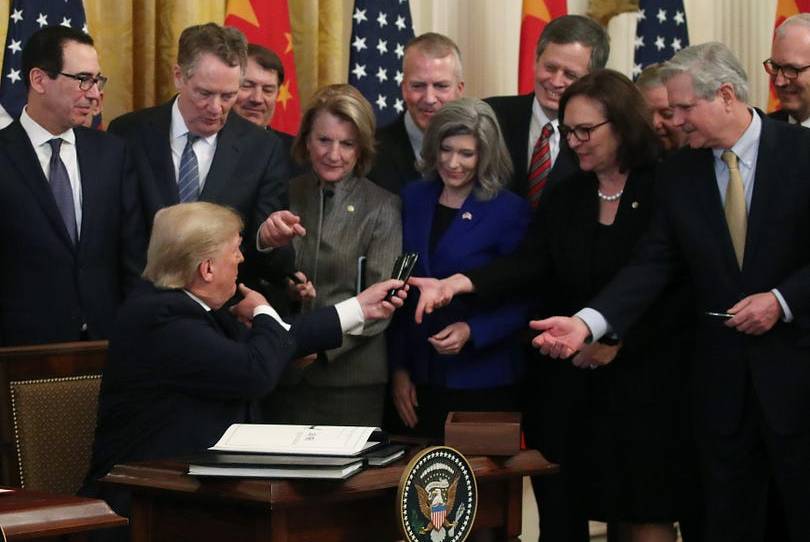 The last few weeks have not been good for Donald Trump's "Phase One" China trade deal. 
First, John Bolton told the world—and the president then partially confirmed—what keen trade observers had long suspected: Trump prioritized a superficial-but-politically-useful agreement over systemic Chinese economic reforms and serious human rights concerns. Then, U.S. Trade Representative Robert Lighthizer lashed out at data showing Chinese purchases of U.S. exports to be far below the deal's negotiated targets and historical averages, while still acknowledging that China is well behind schedule (much to Trump's very public chagrin). Finally, senior White House adviser Peter Navarro told Fox News that, given those same data and rising U.S.-China tensions (something the Phase One deal was supposed to temper!), the agreement and any hopes for "Phase Two" were "over"—a gaffe he immediately walked back following a presidential tweet to the contrary. These and other developments have elicited some surprise from the Washington commentariat and lead many to conclude that Trump's much-heralded agreement, while perhaps not-dead-yet, sure seems to be headed that way.
Any such surprise, however, is wholly unwarranted. While it is still possible that China somehow meets its commitments and stops acting out, the Phase One deal's eventual collapse would be anything but surprising. In fact, the agreement was designed to fail, though perhaps not intentionally.
Before we get to that, however, some essential background: on January 15, 2020, President Trump and Chinese Vice Premier Liu He signed "Phase One" of an economic and trade agreement between the United States and China. The deal contains two main parts: