Trump's Staying Power Fueled by a Disgruntled GOP Base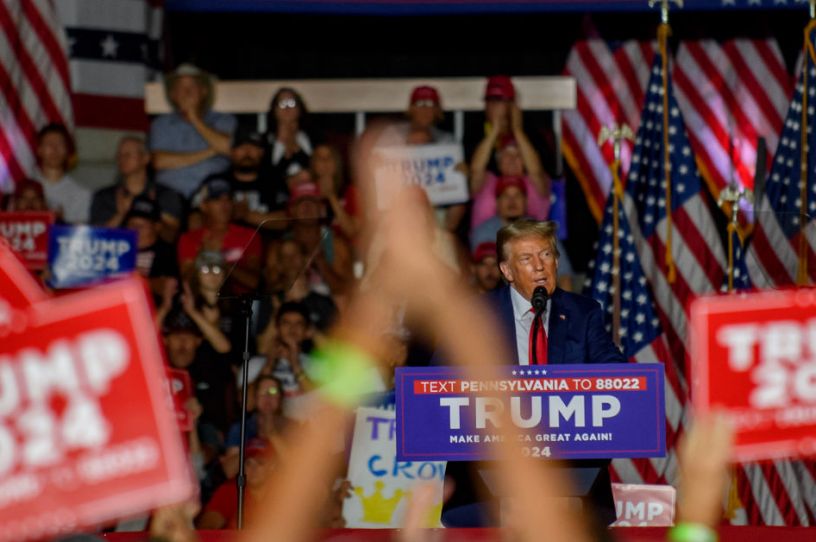 Former President Donald Trump speaks to supporters during a political rally while campaigning at Erie Insurance Arena on July 29, 2023 in Erie, Pennsylvania. (Photo by Jeff Swensen/Getty Images)
When Donald Trump intensified attacks on Ron DeSantis early this year, the Florida governor snapped at the former president for smearing a fellow Republican rather than targeting the real political enemy: President Joe Biden. Wrong answer. For the Republican Party's committed voting base, the real political enemy is, in fact, the Republican Party—and no Republican running for president channels that sentiment like Trump. 
This underappreciated dynamic is a key factor that explains both why grassroots Republicans have remained loyal to the former president through a cascade of political defeats and criminal indictments, and why his competitors for the 2024 nomination—not just DeSantis, but so many others—are struggling to gain traction in the GOP primary.
"It's understated how much Republican primary voters hate the political system—including the Republican Party. Anyone who succeeds Trump will also show disdain for the Republican Party, and that's something that does not come natural to them," a veteran Republican consultant says.
A GOP pollster tells The Dispatch this phenomenon shows up consistently in his surveys of Republican primary voters, who give their party an abysmal average favorability rating of just 60 percent to 65 percent. The same polls show 15 percent to 20 percent of Republican voters view the GOP unfavorably. The picture is more bleak when taking into account the intensity of the support: Even among those Republican primary voters who hold positive opinions of the party, only 25 percent rate their opinion as "very favorable."