Understanding Mike Johnson's Social Conservatism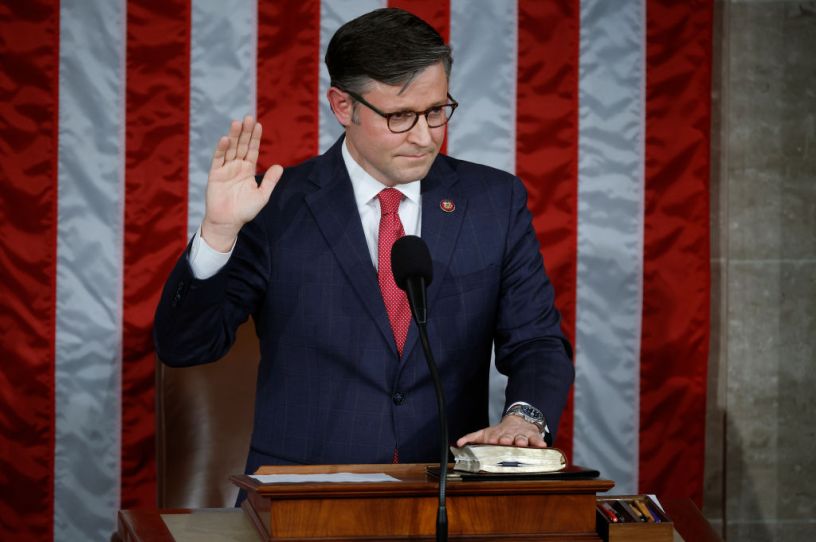 Newly elected Speaker of the House Mike Johnson takes his oath of office after the House of Representatives held an election in the U.S. Capitol on October 25, 2023. (Photo by Chip Somodevilla/Getty Images)
When Republicans rallied behind Rep. Mike Johnson and unanimously elected him the 56th speaker of the House of Representatives Wednesday, the Louisiana lawmaker moved from a position of relative obscurity to the highest-ranking Republican in government.
Others will no doubt speculate on what Johnson's leadership will mean for the prospect of a government shutdown, fights over the debt ceiling, continued funding to Ukraine, and the state of (dis)unity in the Republican Party. But what shouldn't be overlooked is Johnson's previous work with the Christian legal powerhouse Alliance Defending Freedom (ADF), and what this can tell us about the man now second in line for the presidency.
ADF was founded in 1993 with support and coordination from several important figures in the evangelical Christian world, including Focus on the Family's James Dobson and Campus Crusade for Christ's Bill Bright. It was initially designed to be a funding source for attorneys waging legal battles against abortion and LGBT rights and in favor of strengthening religious freedom protections. In the early 2000s, though, ADF transitioned to direct litigation, hiring attorneys and starting to defend clients of its own.
Two decades later, ADF is the cream of the crop of the Christian legal movement, a network of legal interest groups and law schools focused on promoting goals aligned with the conservative Christian community. This movement includes groups like First Liberty Institute and the American Center for Law and Justice—each of which has argued and won cases before the U.S. Supreme Court—and law schools at universities founded by Christian right stalwarts Pat Robertson (Regent University) and Jerry Falwell (Liberty University).
You're out of free articles
Create an account to unlock 1 more articles