WandaVision and the Art of Corporate World-Building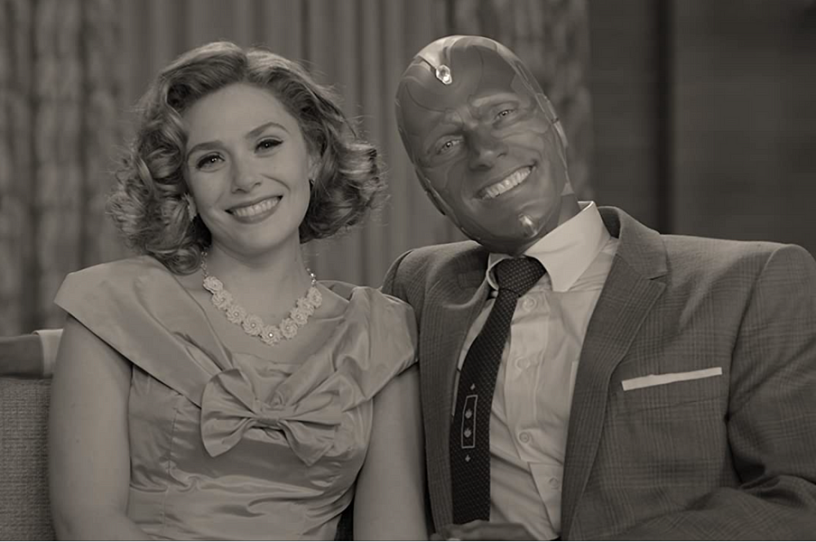 I am no defender of comic book movies and TV shows, especially those from Marvel. While entertaining, they can be a bit empty and have grown bland over time. I'd planned never to watch another Marvel property again after Avengers: Endgame, but then along came WandaVision. I was intrigued.
For those familiar with the Marvel Cinematic Universe, the show's premise and early episodes feel like a major departure. Marvel has devoted entire films to telling a particular character's origin story, but opens WandaVision by dropping two Avengers into a strange place and the wrong decade without explanation. The movies take superheroes on quests to dark corners of outer space, but the show is confined to a small town in New Jersey.
The movies are action flicks full of explosions and battles. But in WandaVision's first episode, viewers are treated to a 1950s-era sitcom starring Wanda Maximoff (Elizabeth Olsen) and Vision (Paul Bettany). Wait, what? Wanda, a sorceress with superpowers, and Vision, an AI android whose body is made of vibranium, both came to the MCU in Avengers: Age of Ultron. They later fell in love. But (spoiler alert!) Vision died in Endgame, so what is he doing alive and well in the 1950s with Wanda and a boring desk job?
At first, it seems like even Wanda and Vision aren't quite sure. They fail at polite small talk when dinner guests ask benign questions about their past. They know they are different—Wanda cheekily signals to Vision to transform from his android self to a human on his way out the door, and we see that even superpowers can't help her in the kitchen—but the early episodes present no context as to why they are in living in a small town, in the past, or why time keeps jumping.
You're out of free articles
Create an account to unlock 1 more articles