We Can Finally Stop Pretending Trump Isn't a Protectionist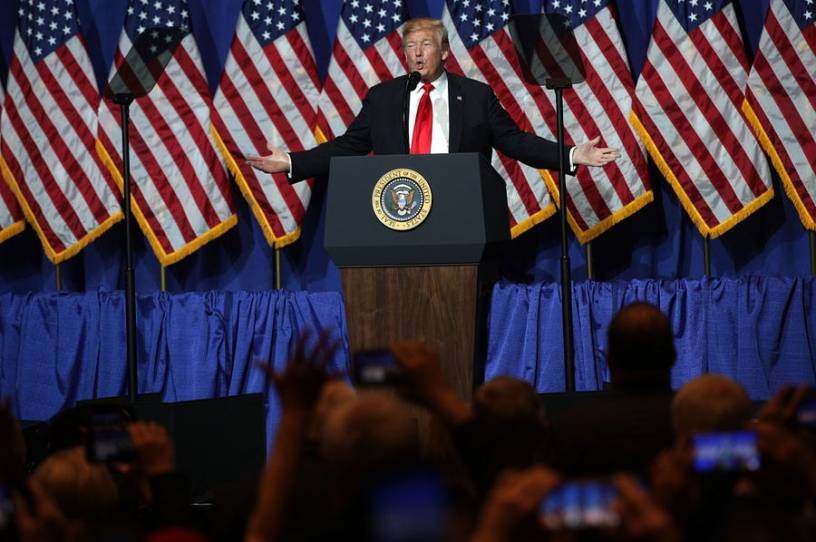 The U.S. tariffs on Canadian aluminum that President Trump reimposed last week are a bad idea for many reasons: They hurt American manufacturers in the middle of a recession, have already sparked Canadian retaliation, stab a close ally in the back, and amplify uncertainty in an uncertain time. The tariffs do, however, have a silver lining: They should finally kill the myth of President Trump as something—anything—other than a protectionist.
Given the president's longstanding views and numerous anti-trade actions, you may be forgiven for thinking that this debate has been settled already. Nevertheless, the last four years are replete with examples of the White House and its allies taking to the airwaves every time the president imposed new tariffs or threatened to blow up a U.S. trade agreement to proclaim that this isn't actually protectionism. For trade watchers and those unwilling to ignore their lying eyes, such claims were always a stretch, but they often did enjoy a veneer of defensibility because of the context in which the president's actions occurred.
Perhaps the most common defense of Trump's trade moves is that they are only a temporary step backward in order to take two steps forward on freer trade. Trump, you see, was actually using tariffs to advance a "radical free trade agenda" and open markets in China, Canada, Europe, and elsewhere that have stubbornly remained closed for decades. Indeed, Trump himself has frequently defended his tariffs as a successful way to both bring foreign countries "to the table" and seal new trade deals, including the United States-Mexico-Canada Agreement (USMCA). "Without tariffs," Trump said in 2018 about the USMCA and his "national security" tariffs on steel and aluminum (and threatened ones on automotive goods), "we wouldn't be talking about a deal, just for those babies out there that keep talking about tariffs." In those same comments he praised the "power of tariffs" to open other markets, and supporters have eagerly pointed out that USMCA (modestly) opens Canada's dairy market. (Never mind that it also closes markets, too.)
As of last week, however, that excuse is toast. The USCMA, hailed by the president as "the largest, most significant, modern, and balanced trade agreement in history," entered into force in July. Eliminating the U.S. tariffs on aluminum (and steel) from the other USMCA countries was a core condition for the deal's ratification before the U.S. Congress and in both Canada and Mexico. Now the tariffs are back, and so is the Canadian retaliation (both theoretically permitted under the 2019 side agreement that nixed them in the first place). "Radical free trade," indeed.
Keep reading with a free account
Create a free Dispatch account to keep reading
Get Started
ALREADY HAVE AN ACCOUNT? SIGN IN