Wealthy GOP Donors Are Bullish on Nikki Haley—For Now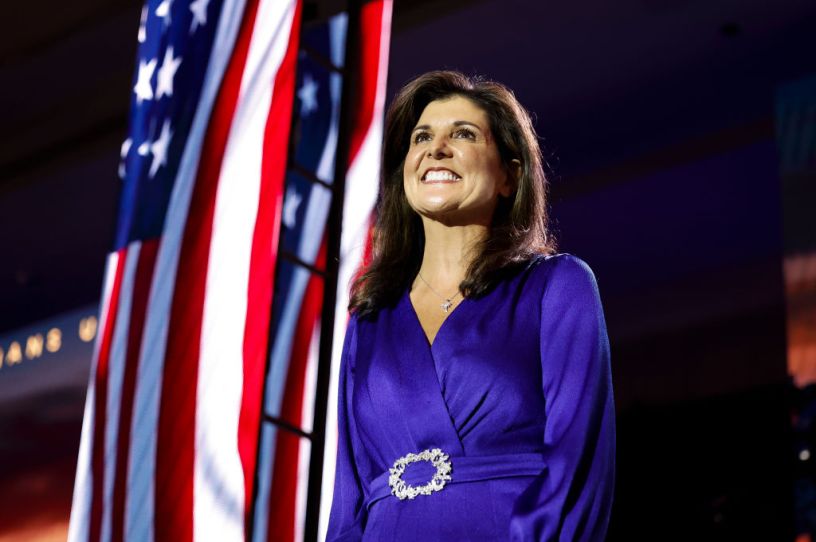 Republican presidential candidate Nikki Haley delivers remarks at the Christians United for Israel (CUFI) summit on July 17, 2023, in Arlington, Virginia. (Photo by Anna Moneymaker/Getty Images)
Even as many wealthy Republican donors sit on the sidelines waiting for a consensus alternative to Donald Trump to emerge in the GOP primary, some are making an early play to propel Nikki Haley into that coveted spot.
Three Republican donors who have contributed to Haley's super PAC, SFA Fund Inc., tell The Dispatch they are smitten with the former U.S. ambassador to the United Nations and ex-South Carolina governor. The reasons are typical: Haley is an experienced chief executive, has a track record of winning tough primaries; and exhibits a command of foreign and domestic policy. And of course, they are desperate to steer the GOP away from Trump.
But however subtly, conversations with these donors reveal their professed faith in Haley to emerge as the consensus Trump alternative later in the primary race does not necessarily equal limitless patience—or plans to write SFA Fund Inc. blank checks. That's relevant because despite being in the primary longer than any candidate other than Trump, Haley is polling in the low single digits.
"I think a lot of things are going to come very clear in the debate," says Tim Draper, a venture capitalist in California's Silicon Valley. He says he is willing to be "patient" with Haley's progress (or lack thereof) at least until the contenders meet August 23 in Milwaukee for the first faceoff of the primary campaign. "Watch Nikki in the debate."
You're out of free articles
Create an account to unlock 1 more articles