What Putin's Talking About When He Talks About 'American Exceptionalism'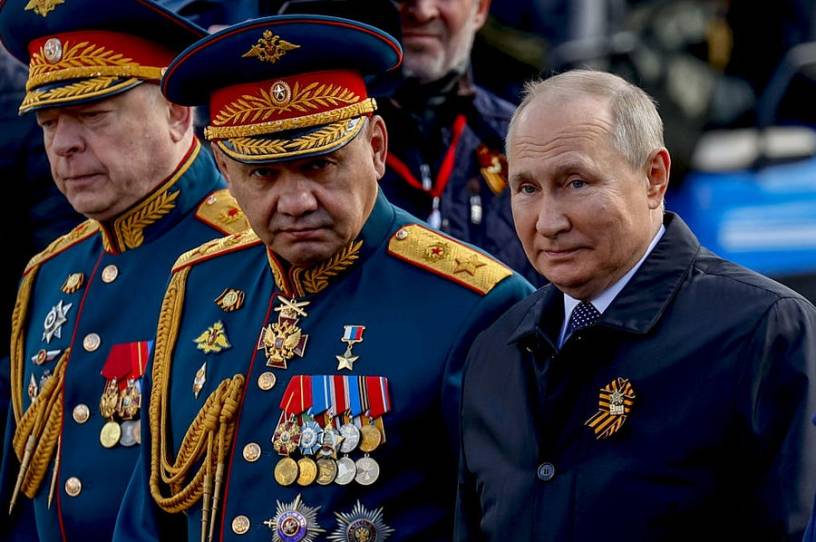 Much has been written about last Monday's  "Victory Day" in Russia,  a holiday that celebrates the Red Army's defeat of the Germans in World War II, but it is difficult for the average American to understand just how big a deal this celebration is in Russia. Imagine the Fourth of July and Memorial Day combined with Veterans Day, Thanksgiving, and an absolutist government with a propaganda imperative to celebrate the Nazi defeat as a core political justification for the regime's existence. 
This year Russia celebrated Victory Day at war—a war that Russia's propaganda apparatus proclaims is against "Nazis." With this declared purpose of a major war, one in which thousands of Russians are dying and which has resulted in significant (and growing) economic hardship for the Russian people, one might expect that this year Victory Day would be an extra special affair. With Russian troops getting pushed back on most fronts and hopes of a swift victory as obliterated as the Moskva, many analysts feared that Vladimir Putin would announce some major escalation—perhaps a call for a general Russian mobilization or a formal "declaration of war" against Ukraine. These fears were not totally misplaced. As bad as the Russian atrocities in Ukraine have been things can probably get a lot worse if Putin chooses to take more risks and use more extreme measures against Ukraine. 
Instead, Putin's speech contained nothing new, no new threats, no new announcements. He took the opportunity to once again frame his war in Ukraine as a defensive war. The story Putin told was not the standard "realist" narrative of an idiotically expansionist NATO goading the Russian bear more than it could bear. Instead it is a paranoid fantasy of an upcoming NATO-sponsored attack on Crimea from Ukraine that was preemptively stopped by Putin's wise attack. He makes Russia look like a political naïf, seeking to make some agreement with NATO in as late as December 2021, while NATO countries were actually planning aggression:
"In December last year, we proposed to conclude an agreement on security guarantees. Russia called on the West to have an honest dialogue, to search for reasonable, compromise solutions, to take into account each other's interests. All in vain. The NATO countries did not want to hear us, which means that in fact they had completely different plans. And we saw it.
Keep reading with a free account
Create a free Dispatch account to keep reading
Get Started
ALREADY HAVE AN ACCOUNT? SIGN IN