Who Can Say When the Evening Ends and the Night Begins?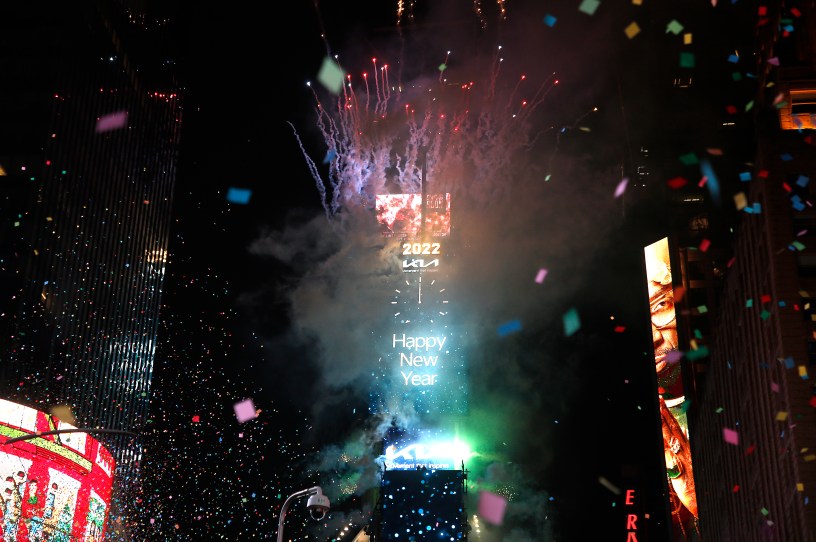 NEW YORK, NEW YORK - JANUARY 01: Confetti fall as the ball drops over Times Square during the 2022 New Year's Eve celebrations on January 01, 2022 in New York City. Despite a major surge in Covid -19 cases in New York City and across the country, the city held a scaled-down celebration for the annual ball drop. This year, a maximum of 15,000 people will be in attendance, down from approximately 60,000, and proof of vaccination and protective masks are required. (Photo by John Lamparski/Getty Images)
New Year's Eve is surely the strangest of all holidays. Thanksgiving dinners, a romantic Valentine's date, birthday parties—all are relatively intimate occasions. Perhaps Halloween is an exception, when we send our children around to the doors of neighbors. But we don't celebrate together with them. A quick "trick-or-treat," some candy dropped into a waiting bag, and it's off to the next house. For a civic occasion like the Fourth of July, we might attend a public event like a parade, but afterwards we retreat to the back yard for barbecue. But on New Year's Eve, countless people head out to restaurants, bars, clubs, and of course Times Square to celebrate with large crowds of total strangers.
And then there is the practice, more honored in the breach than the observance, of marking the occasion with a New Year's resolution. I have nothing against such resolutions; to the contrary, I envy anyone who can make and actually keep one. As for me, I gave up making them long ago, because I know myself too well: any resolution worth making is one I would prove too weak-willed to keep. I suspect I am the rule rather than the exception, given our gently ironic assumption that the shelf life of most New Year's resolutions is about two weeks.
But most baffling of all is the sheer irrationality of New Year's Eve as an occasion for celebration. Is any other holiday so utterly unmotivated? We know why we celebrate days like Christmas and Easter, and even those who no longer view them as religious festivals can recognize their historical origins. We understand the basis for civic holidays like Memorial Day, Veterans Day, or Presidents' Day. Thanksgiving has a mixed religious and civic background. Even a more artificial holiday like Mother's Day at least has a clear rationale.
But New Year's? What possible significance could there be to turning the calendar from December 31 to January 1? It has no more meaning than the change from December 30 to December 31, or from November 30 to December 1, or for that matter from, say, June 11 to June 12. It marks no special event, no achievement, no turning point in anyone's life. Who can even say, really, when one year ends and another begins? Every date on the calendar marks the beginning of a new year.