Will DeSantis Stay on the Attack Against Trump?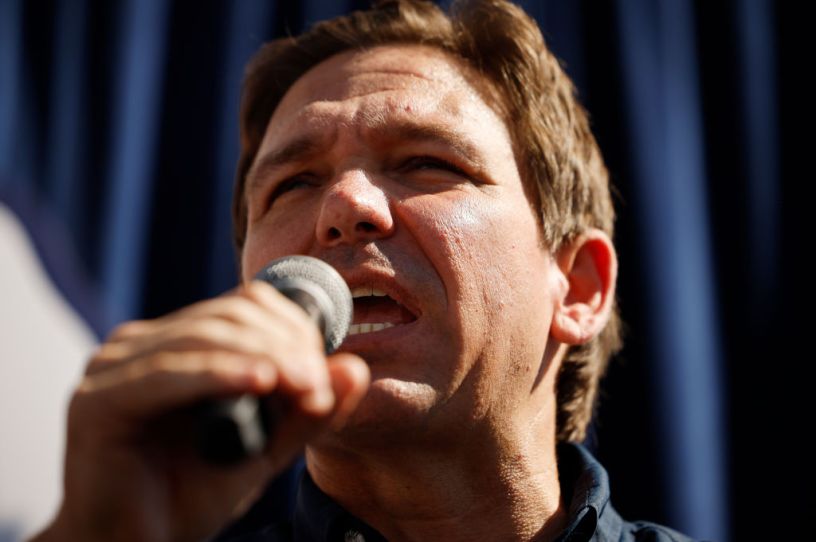 Ron DeSantis speaks during one of Iowa Gov. Kim Reynolds' "fair-side chats" at the Iowa State Fair on August 12, 2023, in Des Moines, Iowa. (Photo by Chip Somodevilla/Getty Images)
So, Ron DeSantis gets it after all.
"A movement can't be about the personality of one individual," DeSantis told the Florida Standard. "If all we are is listless vessels that's just supposed to follow, you know, whatever happens to come down the pike on Truth Social every morning, that's not going to be a durable movement."
He prefaced his "listless vessel" line, by noting that the case for Trump has been "totally detached from any type of substance." Conservatism and the Republican Party, he said, have got to be about the question, "What are you trying to achieve on behalf of the American people? And that's got to be based in principle."
It's a bit frustrating that DeSantis is only saying this now, as some of us have been saying this for the better part of a decade. Years of listlessness have created an environment where Republican voters now say they think Trump tells the truth more than religious leaders or their own families. I'm not convinced they actually believe this, but the response certainly speaks to the dysfunction on the right.