Will One Man's Stroke Determine Control of the Senate?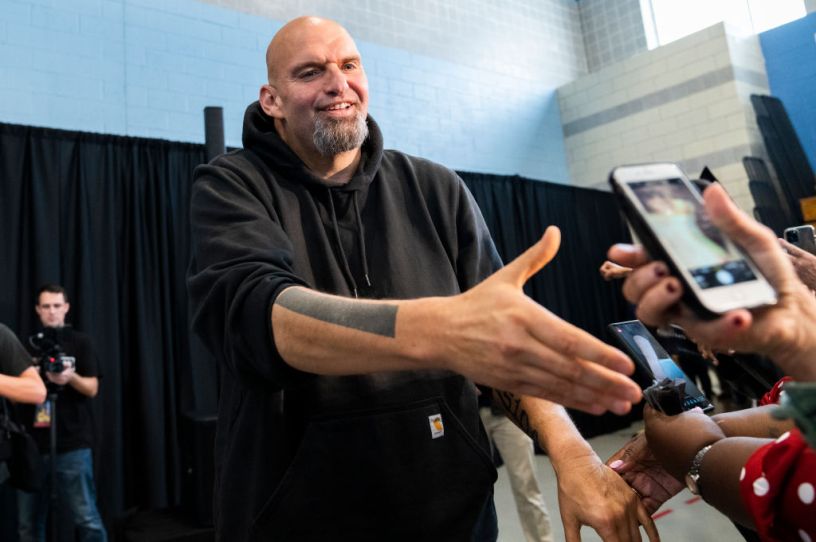 John Fetterman (Tom Williams/CQ-Roll Call, Inc via Getty Images)
YORK, Pa.—When Pennsylvania Lt. Gov. John Fetterman kicked off a Saturday rally in his hometown, he quickly tried to head-off concerns about whether the stroke he suffered in May will affect his ability to serve in the U.S. Senate.
"Dr. Oz, he never lets me forget that I had a stroke, he never—always remembers it," Fetterman said of his Republican challenger Dr. Mehmet Oz, a former television host competing for retiring GOP Sen. Pat Toomey's seat. "I can guarantee you there's probably at least one person here in every event where they're filming me, looking to have me miss some words."
Fetterman's stroke kept him off the campaign trail for months and induced aphasia, a condition that affects his ability to express and interpret language. As a result, Fetterman sometimes jumbles words—as he did several times during his 15-minute speech Saturday—a reality he often acknowledges on the campaign trail. He also uses closed-captioned transcription software during interviews to better interpret questions from reporters.
His health has added a new wrinkle to a race that could determine which party takes control of the 50-50 Senate. With recent polls showing the race tightening (though with Fetterman still leading), Oz's campaign has mocked Fetterman's stroke and portrayed his poor health as disqualifying. "If John Fetterman had ever eaten a vegetable in his life, then maybe he wouldn't have had a major stroke and wouldn't be in the position of having to lie about it constantly," Rachel Tripp, Oz's senior communications advisor, told Insider in August.