Yes, the House Voted on Articles of Impeachment for President Biden. But Not in a Way That Really Matters.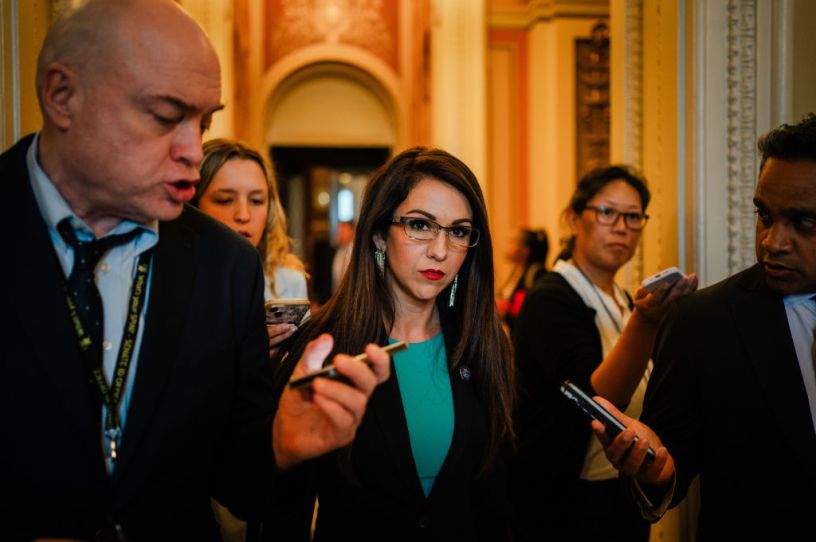 Rep. Lauren Boebert chats with reporters at the U.S. Capitol on Wednesday, June 21, 2023, a day before her resolution introducing articles of impeachment against Joe Biden was referred to committee. (Kent Nishimura / Los Angeles Times/Getty Images)
The House of Representatives may not be back in session until next week, but that hasn't stopped the spread of a viral Facebook video that makes it appear lawmakers recently voted on articles of impeachment for President Joe Biden.
The video, which features the teasing subtitle "What Happens Next is Unbelievable," is actually quite believable, as the vote it depicts occurred more than two months ago. Passing on June 22 with a count of 219-208 (and seven abstentions), the resolution featured in the video clip—H. Res. 529—referred GOP Rep. Lauren Boebert's separate resolution, H. Res. 503, to the House Committee on Homeland Security and Committee on the Judiciary. Boebert's resolution, which would impeach President Biden for high crimes and misdemeanors relating to abuse of power and dereliction of duty in the handling of immigration and the southern border, is now under committee review and consideration.
While the House did technically vote on Boebert's articles of impeachment, the vote was solely on whether to refer them to the relevant committees for further review—not on whether to approve or deny them. The list of U.S. presidents to be impeached by the House, at least for now, remains at only Andrew Johnson, Bill Clinton, and Donald Trump.
House Republicans will likely take up the issue of President Biden's potential impeachment again next week when they return to session, and Boebert's resolution may very well end up receiving an up-or-down vote in the future. For now, however, Biden remains decidedly unimpeached.
If you have a claim you would like to see us fact check, please send us an email at factcheck@thedispatch.com. If you would like to suggest a correction to this piece or any other Dispatch article, please email corrections@thedispatch.com.