Cutting Bait on DeSantis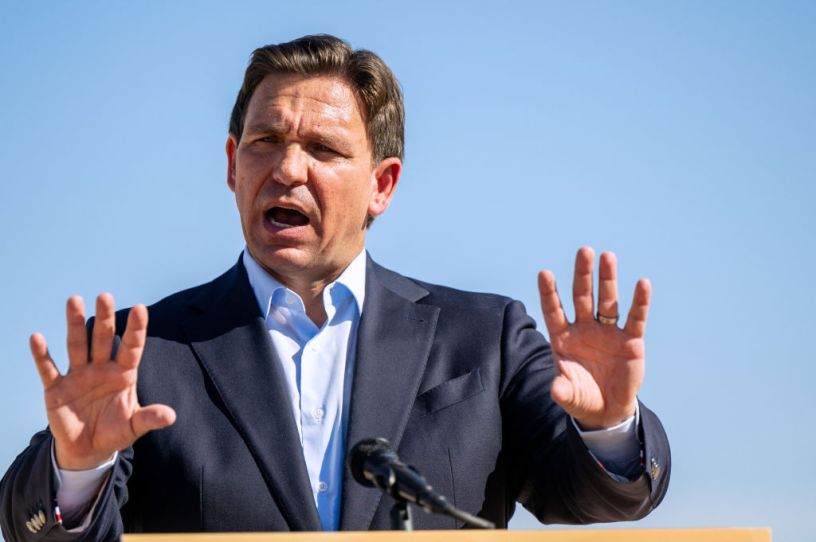 Florida Gov. Ron DeSantis speaks to members of the media and site workers at the Permian Deep Rock Oil Company site during a campaign event on September 20, 2023, in Midland, Texas. (Photo by Brandon Bell/Getty Images)
The Republican presidential primary is a two-man race. You can nominate a paranoid elderly coup-plotter who's facing dozens of criminal charges or you can nominate a whip-smart fortysomething governor who's delivered repeatedly on right-wing policy priorities.
Those are your options. Realistically, there are no others.
Or so the Ron DeSantis 2024 campaign would like us to believe.
I do believe it—or did. For most of this year, the numbers backed it up. The governor of Florida once polled at 30 percent nationally against Trump, the only challenger in the field to have crossed that threshold. He was also the only challenger ever to have polled as high as 20 percent.
In fact, he remains the only challenger to have polled as high as 10 percent.
DeSantis' strategy for victory depended on Republican voters perceiving the primary as a binary choice. His plan was to go full metal populist on policy in hopes of splitting the MAGA base, at which point the remainder of the party that's already lukewarm on Trump would fall in line behind the governor. In a two-man race, all the younger man had to do was prove that he stood a credible chance of winning.