Silence Is Golden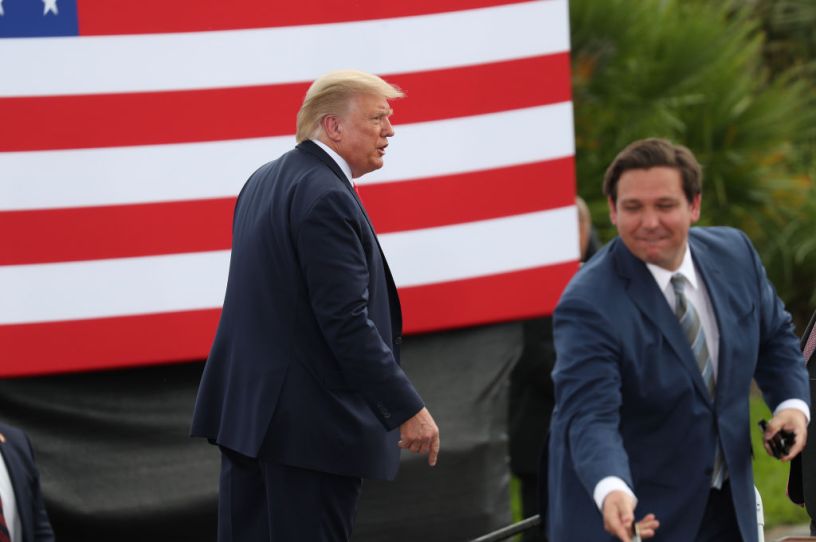 Donald Trump and Ron DeSantis at an event in Florida, 2020. (Photo by Joe Raedle/Getty Images)
A few days ago Mark Leibovich tweaked the Ron DeSantis groupies in conservative media with a new piece about the governor's unsociability. "Standoffish" is how one former colleague describes him. "Aloof" is a word that pops up repeatedly in other profiles. "DeSantis is not a fun and convivial dude," Leibovich wrote. "He prefers to keep his earbuds in. His 'Step away from the vehicle' vibes are strong."
I sympathize, being aloof and unsociable myself. But unlike DeSantis, I'm not running for president. Yet.
Leibovich wondered how a man who fails the "Would you like to have a beer with him?" test so miserably can win a primary against someone as charismatic as Donald Trump. In a typical "choice" election, I agree that Trump would eat his lunch the same way he ate the collective lunch of an enormous field in 2016. Faced that year with a choice between nominating one of many standard-issue professional politicians or trying something very, very different, Republican voters chose … poorly.
But they did choose. They wanted something fresh, exciting, entertaining. DeSantis wouldn't have stood a chance.
Get unlimited access to our 10 daily and weekly newsletters, Dispatch Live broadcasts, article comments and community events.
Get Started
ALREADY A PAID SUBSCRIBER? SIGN IN