The Demagogue Won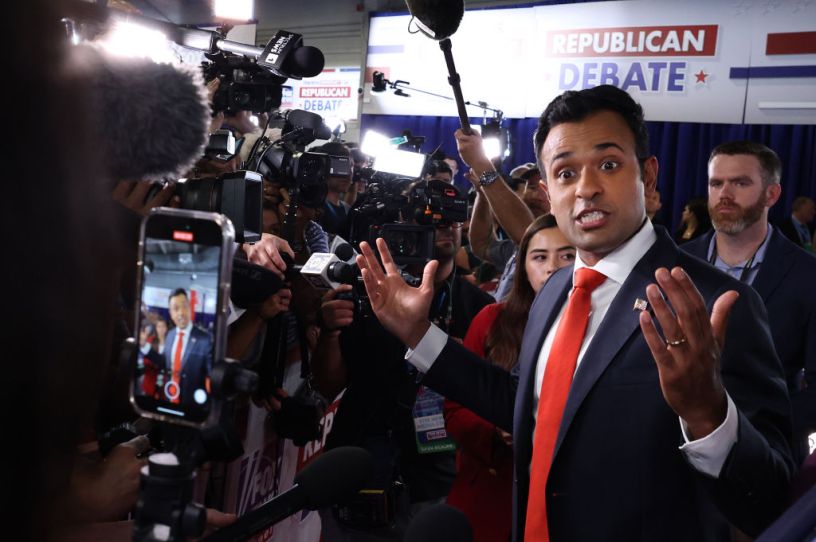 Republican presidential candidate Vivek Ramaswamy talks to members of the media following the first debate of the GOP primary season hosted on August 23, 2023, in Milwaukee, Wisconsin. (Photo by Scott Olson/Getty Images)
Yesterday I lost my nerve.
I thought of titling Wednesday's newsletter "The Vivek Debate" but chickened out before publication. After all, this was supposed to be The DeSantis Debate. With the frontrunner absent, the second-place candidate looked to be the logical target for the also-rans. For good or for ill, the governor of Florida was likely to be the main character.
But Republican voters are what they are, and they like what they like. And so it seemed to me (and others) that a glib, shameless, boorish, sloganeering populist "outsider" brimming with shallow charisma was destined to make the biggest splash in a glib, shameless, boorish, sloganeering populist party. This would end up as The Vivek Debate. How could it be otherwise?
Unable to resolve the conflict between the strategic imperatives of the moment and the political reality, I hedged my bets. DeSantis and Ramaswamy would both be main characters, I predicted, the only two candidates onstage who "matter."
I should have gone with my gut.
About an hour into the debate, one disgusted colleague chimed into the Dispatch Slack channel with this comment: "Another despicable demagogue in a party that loves despicable demagogues." He didn't specify who he meant, but he didn't need to.