The Only Way Out Is Through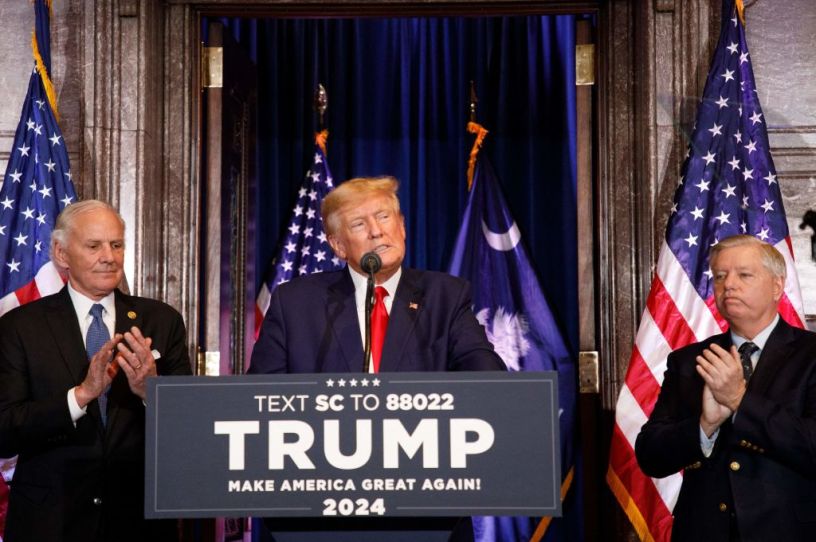 Former President Donald Trump, joined by Sen. Lindsay Graham, right, and South Carolina Gov. Henry McMaster, left, speaks at a campaign event in Columbia, South Carolina, on January 28. (Photo by LOGAN CYRUS/AFP via Getty Images)
American politics is a dark comedy. Sometimes it's more comic than dark, other times it's darker than it is comic. But ever since a certain someone rode a certain escalator, political news in this country has been a daily blend of menace and absurdity.
Take, for example, Steve Bannon assuring Kari Lake recently that she's the "frickin' governor of Arizona." One can't help but laugh at populists again retreating into outlandish fantasy to cope with electoral defeat. But inasmuch as Bannon's nonsense deepens right-wing distrust in democracy, one can't help but shudder a bit too.
The hallmark of dark comedy is finding humor in death. On Monday The Atlantic published a near-masterpiece of the genre, in which reporter McKay Coppins asked various Republican officials how the party might feasibly move past Trump and was told repeatedly: Don't fear the Reaper.
"I've heard from a lot of people who will go onstage and put on the red hat, and then give me a call the next day and say, 'I can't wait until this guy dies,'" former Rep. Peter Meijer told Coppins. Meijer stressed that he doesn't share his colleagues' death wish for Trump but noted that the sentiment is common enough in the upper tiers of Republican politics that he's coined a phrase, "actuarial arbitrage," to describe the party's strategy for nominating someone else in 2024.
Get every newsletter and all of The Dispatch. Support quality, fact-based journalism.
Start Your Free Trial
ALREADY A PAID SUBSCRIBER? SIGN IN