This Is What Democracy Looks Like?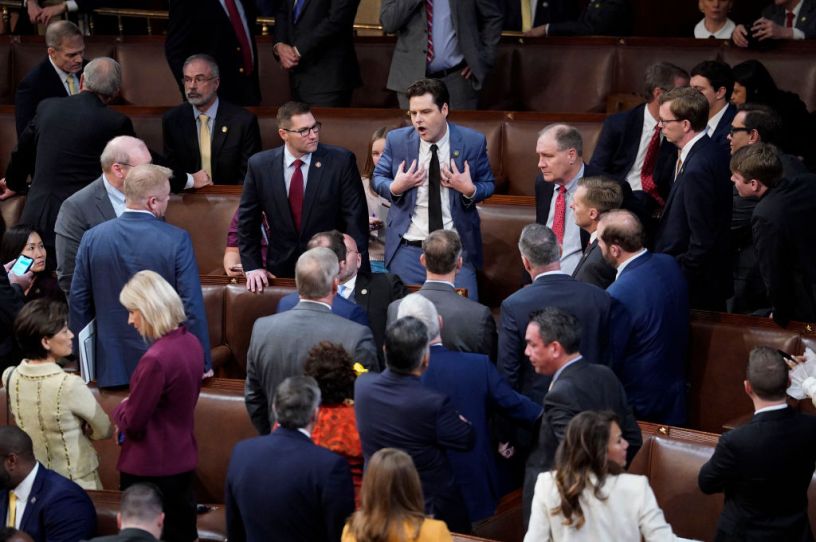 Rep.-elect Matt Gaetz speaks with other member-elects on Wednesday. (Photo by Jabin Botsford/The Washington Post via Getty Images)
"Democracy is messy" is a cliché, but clichés become cliches because they're true. Elections, debate, polling, cajoling, horse-trading, arm-twisting, and compromise, all punctuated by episodes of impasse and seasoned with heaps of grandstanding: It ain't pretty to look at, but there's no more civilized way to reconcile divergent public interests.
Democracy is also often messier abroad than it is here. If you think this week in Washington has been chaotic, may I direct your attention to the last six months of politics in the United Kingdom? Or the last four years in Israel?
That's not to say that a messy delay in handling the people's business is without costs. But America will survive a few days of legislative paralysis for the sake of gratifying Kevin McCarthy's ego.
Besides, the standoff over the speakership could be good for American democracy writ large. I've written twice already this week about the virtues of returning to "regular order" in the House and won't belabor the point here. But if you're keen to see Congress function the way it's supposed to, with members bargaining to arrive at a mutually satisfactory policy instead of the majority leadership descending from Mt. Sinai with a last-second omnibus bill etched in stone, you should be heartened by the Chip Roy faction winning procedural concessions from McCarthy.
Get every newsletter and all of The Dispatch. Support quality, fact-based journalism.
Start Your Free Trial
ALREADY A PAID SUBSCRIBER? SIGN IN