The Chains That Bind Us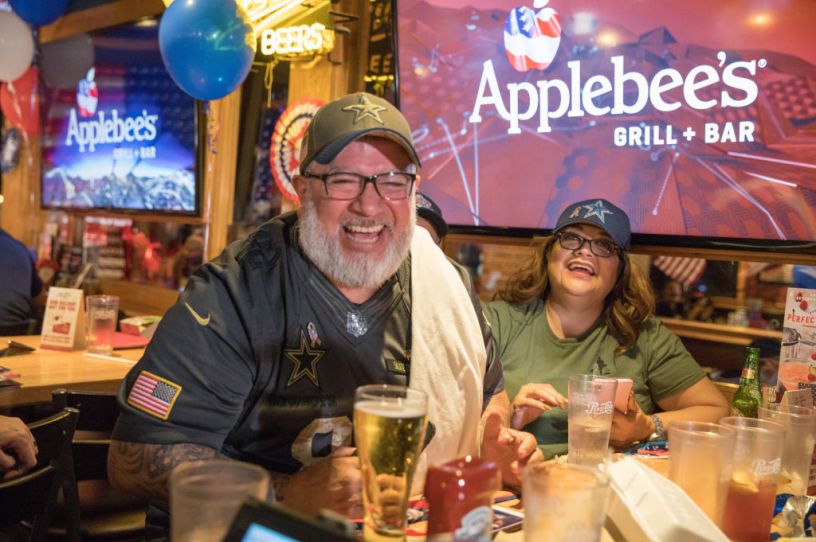 Diners at Applebee's to mark Veterans Day, on November 10, 2019 in Irving, Texes. (Photo by Rick Kern/Getty Images)
Dear Capitolisters,
Among the handful of topics on which folks on the left and the right seem to agree is that large chain restaurants and "big box" stores are Bad, while small, local establishments are Good. Various polls reveal this preference (as does a lot of online snark), and politicians at all levels of government routinely push policies to aid "small businesses" or directly punish the big ones. Chief among the reasons for this preference is the widely accepted notion that small, independent businesses are manifestly good for local communities, boosting not just jobs and tax revenue but also a town's identity, cohesion, and social capital. Chains, on the other hand, are American consumerism at its worst, basically doing the opposite of the great stuff that local shops do.
As I wrote a couple years ago, the economic arguments against big box retail are weak—they pay relatively well (better than mom-and-pop competitors), boost local economic output, and are great for consumers. But that's just heartless libertarian talk; maybe those communitarian arguments against big chains are important—important enough, in fact, to pay the cold, calculating economic costs of supporting them?
Well, that doesn't appear to be the case either—at least when it comes to encouraging social interactions among America's rich, poor, and middle class. In fact, according to a fascinating new working paper, the establishments that do the most in this regard aren't your local boutiques or gastropubs—or even our libraries and churches—but Applebee's and other chains like it.
No, really.