Russia Is Attacking Poland With Wiper Ware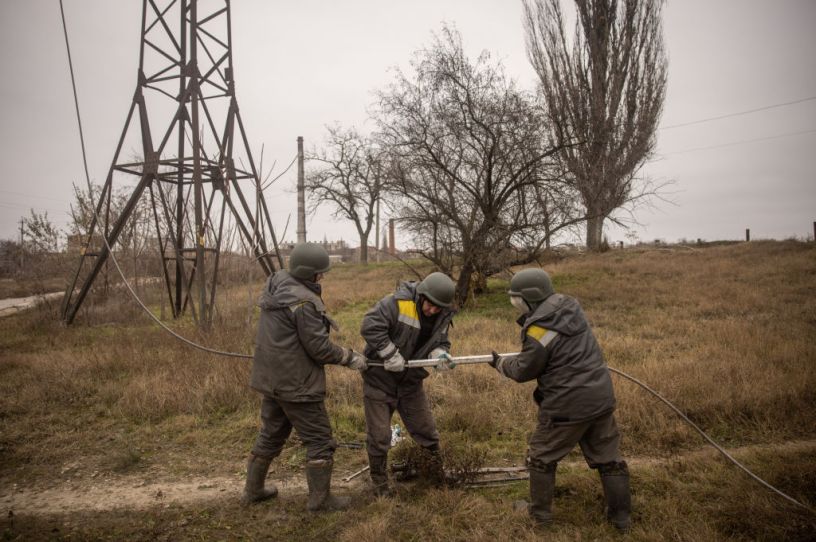 Electricity workers work to fix a high voltage power line in Kherson, Ukraine. (Photo by Chris McGrath/Getty Images.)
This week, I briefed two dozen foreign policy and national security staffers in the Senate on the latest in Ukraine. I thought I'd share a few highlights.
To begin, I was invited and hosted by the chamber's Republican Policy Committee (RPC)—a committee currently headed by Sen. Roy Blunt of Missouri and soon to be chaired by Sen. Joni Ernst of Iowa. Established in 1947, the RPC acts as a kind of internal "think tank" for Senate Republicans. Committee staff assist their caucus by researching and making recommendations on issues, legislation, floor debates, and votes.
One of the RPC's longest-standing traditions is a weekly policy lunch for senators to discuss topics of interest and impending legislation. It also convenes briefings for Senate personnel where they can hear from outside experts, which is how I ended up on the Hill this week.
I was joined by two other experts, but because we were under Chatham House Rule, I won't identify them here—but both were excellent. These two quickly got the room up to date on the latest battlefield developments and explained why American support to Ukraine is likely to be necessary for years. Then it was my turn.