We Just Saved the Internet (For Now)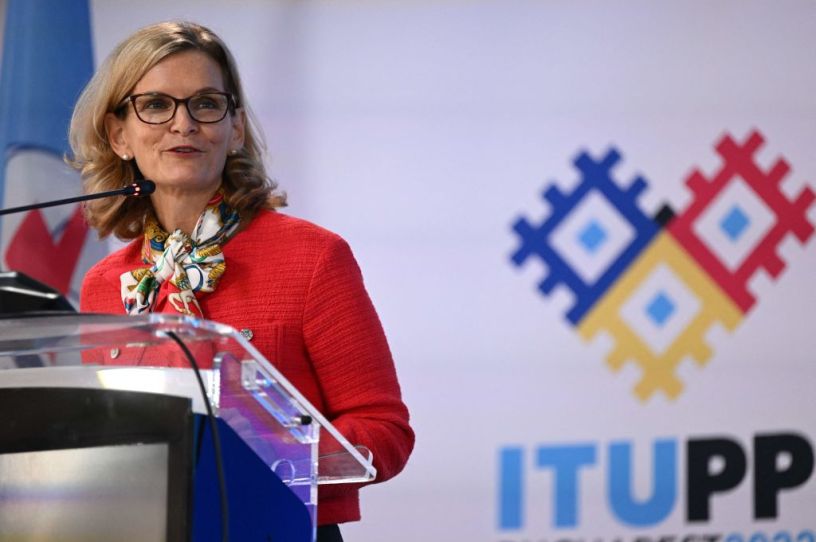 Doreen Bogdan-Martin of delivers a speech after she was elected as secretary-general of the International Telecommunication Union. (Photo by Daniel Mihailescu/AFP/Getty Images.)
We Just Saved the Internet (For Now)
The United States has defeated Russia to assume leadership of the United Nations' International Telecommunications Union (ITU), a little-known but important agency at the heart of international technical standards. In the nerd version of Rocky IV, American diplomat Doreen Bogdan-Martin beat Moscow's Rashid Ismailov to become the ITU's leader for the next four years, receiving 139 of 172 total votes. While there was no awesome montage of Bogdan-Martin's workout routines and there's also no evidence that Ismailov used any type of performance-enhancing drugs, this was an epic beatdown and a win for the forces of freedom. (Trust me, you owe it to yourself to watch the video below.)
The election happened at the conclusion of the ITU's 2022 Plenipotentiary Conference in Bucharest, Romania, and is an important culmination of American efforts to re-engage international forums that are shaping the internet. Other down-ballot election results are equally encouraging.
Russia also lost its seat on ITU's radio regulatory board and was shut out of a broader regulatory council. Iran, likewise, lost its council seat. China got a bit of humble pie too: In 2018, Houlin Zhao ran unopposed to become ITU's secretary-general but Beijing's candidate in this year's races only came in third for a much less prestigious position—significantly reducing China's influence on the ITU.
Get unlimited access to our 10 daily and weekly newsletters, Dispatch Live broadcasts, article comments and community events.
Get Started
ALREADY A PAID SUBSCRIBER? SIGN IN