Dean Phillips Giving It the College Try in New Hampshire
Happy Wednesday! We hope our readers on Capitol Hill are resting up after a wild Tuesday of intraparty and interparty near-violence.
Up to Speed
How Generic Can One Man Get?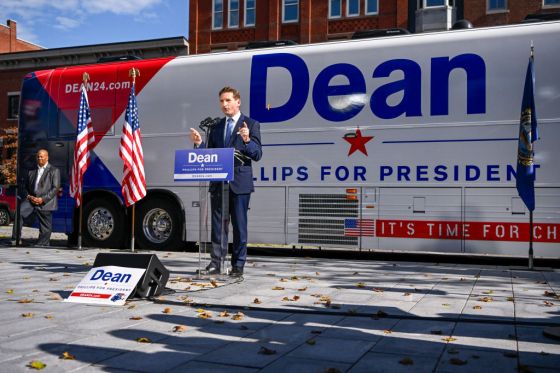 The New Hampshire Democratic primary is in an odd spot this year: Stripped by party honchos of their first-in-the-nation status, but obliged by state law to go first anyway, the state party is pushing forward with a purely symbolic primary that won't include President Joe Biden on the ballot. Rep. Dean Phillips, who last month launched a longshot primary bid against the president, hopes to benefit from the unusual situation: He's made New Hampshire his primary focus as he strives to show many Democrats are ready to move on from Biden.
Is there any electoral juice to be found for a guy like Phillips? Andrew headed up to Dartmouth College this week to get a firsthand glimpse of the Minnesota lawmaker's "more in sorrow than in anger" primary pitch:
"I have great respect for President Biden," he says at Dartmouth. "I believe he was the only man, the only candidate who could have beaten Donald Trump in 2020. I also believe that he's probably the only Democrat who could lose—and probably will—to Donald Trump in 2024."
You're out of free articles
Create an account to unlock 1 more articles