Donald Trump Tests the Iowa Evangelical Faithful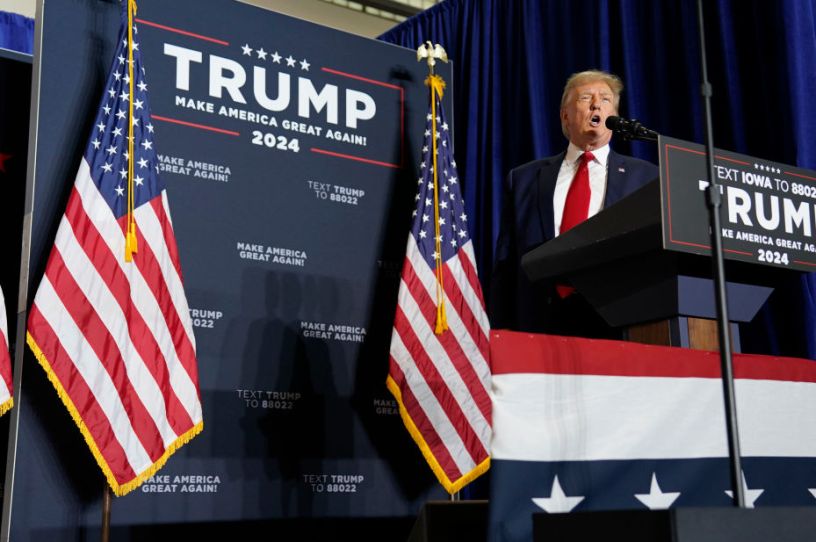 Former president Donald Trump speaks during a rally on September 20, 2023, in Dubuque, Iowa. (Photo by Jabin Botsford/The Washington Post via Getty Images)
Happy Monday! T-minus six days until a government shutdown, unless Congress gets its act together this week. Anyone think they'll avoid it?
Up to Speed
New Jersey Sen. Bob Menendez and his wife were indicted in federal court Friday on felony bribery charges, with the government alleging he illegally used his perch atop the Senate Foreign Relations Committee to enrich several state businessmen and benefit the Egyptian government. Federal agents who searched the Menendez home in June 2022 found nearly a half million dollars in cash squirreled away in various places, and prosecutors allege the bribes also included "gold bars, payments toward a home mortgage, compensation for a low-or-no-show job, a luxury vehicle and other items of value."
Menendez, who previously dodged federal corruption charges in 2017 after a hung jury ended in a mistrial, announced he would temporarily step down from his role as chair of the Foreign Relations Committee. In a statement on Friday, he added that "the facts are not as presented" and insisted he would not resign. "It is not lost on me how quickly some are rushing to judge a Latino and push him out of his seat. I am not going anywhere," he wrote.
Despite negotiations continuing through the weekend, and with just one week to go until a government shutdown, House Speaker Kevin McCarthy is no closer to budging the stubborn holdouts in his caucus. McCarthy has tried to characterize his proposed stopgap funding package—which would fund the government for a few more months with 8 percent cuts to the bulk of federal discretionary spending—as simply a mechanism to buy more time for the House to pass a full suite of appropriations bills. Several of those appropriations bills will come to the floor this week.
Former New Jersey Gov. Chris Christie will hold an Arizona fundraiser today with a who's who of the state party's old guard of more moderate, Trump-skeptical Republicans. They include former Gov. Doug Ducey, former Sen. Jon Kyl, 2022 gubernatorial candidate Karrin Taylor Robson, and Arizona Cardinals owner Michael Bidwill.
Meanwhile, Kari Lake—the onetime unsuccessful gubernatorial candidate and the most prominent ambassador of Arizona's insurgent MAGA coalition—is planning to launch a run for independent Sen. Kyrsten Sinema's seat in the coming weeks, Politico reported last week. Blake Masters, who failed to unseat Sen. Mark Kelly in last year's midterms, is unlikely to run again should Lake enter the race.
In Iowa, Trump Tests Pastors' Political Reach
DES MOINES, Iowa—As he pivots toward the center on abortion policy, Donald Trump isn't just giving pro-life activists headaches. He's also testing the political power of a previously formidable constituency: Iowa's evangelical pastors.
Faith leaders across the state, site of next year's first-in-the-nation Republican caucuses, have reacted with dismay to recent remarks in which the former president positioned himself as a compromise-broker between Republicans and Democrats. Trump also castigated Florida Gov. Ron DeSantis for signing a state ban on most abortions after six weeks.
"He gets to wear the mantle of the most pro-life president in modern history," Mike Demastus, executive pastor of The Fort church in Fort Des Moines, tells The Dispatch. "But what many evangelicals feel like right now is, it's almost like he's pushing us two steps backwards. Like he's doing that intentionally—'Don't get too close, I've gotta deal with this crowd over here.'"
You're out of free articles
Create an account to unlock 1 more articles