Launch Week for Nikki Haley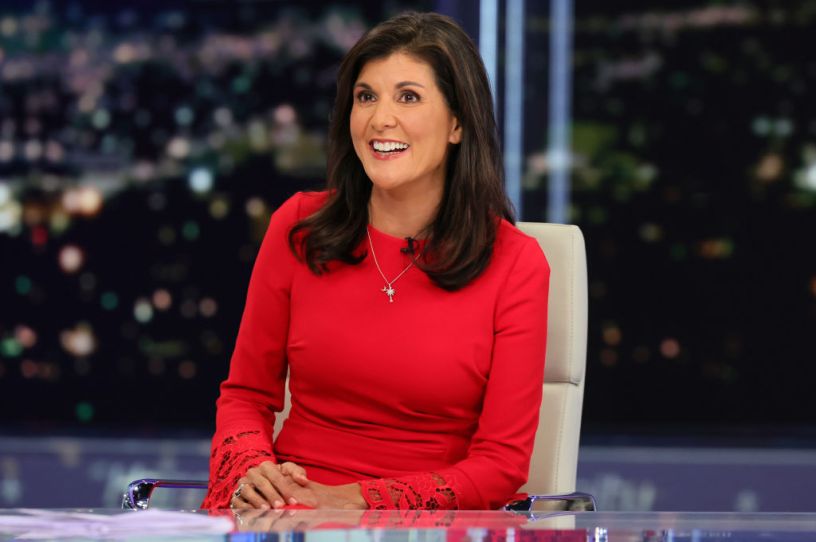 Nikki Haley on "Hannity" at Fox News Channel Studios on January 20. (Photo by Theo Wargo/Getty Images)
Happy Monday! The refs did nothing wrong.
Up to Speed
Former Arizona GOP gubernatorial candidate Kari Lake traveled to Iowa over the weekend, raising speculation about her political ambitions. The Trump-aligned former newscaster lost narrowly to Democrat Katie Hobbs in November but continues to baselessly insist her loss was fraudulent. Lake hasn't ruled out a 2024 U.S. Senate bid in Arizona, but she signaled she's open to serving as Trump's vice presidential pick if he wins the nomination. "If he wants me to help him in any way, shape or form, I will do that. I will campaign for him," she said in an interview with the Des Moines Register. "I'll do whatever I need to. But I'm not running for VP. I'm not running for president. I am just running to save America, if there's such a thing."
Michigan businessman and failed Republican gubernatorial candidate Perry Johnson said Thursday that he filed paperwork to create a "candidate committee to consider a run for President of the United States." He aired $192,000 in Super Bowl ads across Iowa media markets on Sunday criticizing Democrats in Washington for "bloated government" and promoting his book Two Cents to Save America. Those ads will hit New Hampshire next. "Johnson is set to open a campaign office in Des Moines in the coming weeks, with visits to both Iowa and New Hampshire planned before the end of March," reads a Sunday press release.
Will New Hampshire Gov. Chris Sununu enter the presidential race too? NBC News first reported last week that Sununu has formed a new national political organization, Live Free or Die, to fund political travel and related activities as he mulls the prospect. "There's no doubt I could do the job," Sununu told The Dispatch over the weekend. "But it has to be right for me and the party and the family and all that kind of stuff. And we'll kind of see where it takes us."
Haley Campaign Thin on the Ground in Iowa and New Hampshire
Nikki Haley takes her place in the presidential spotlight this week. The former South Carolina governor and U.N. ambassador will head to New Hampshire for two days of campaigning, followed by more of the same in Iowa, after announcing her 2024 bid Wednesday with a late morning rally in Charleston, South Carolina. All three are key early states: The Iowa caucuses next February will kick off the Republican presidential nominating contest, followed by New Hampshire, host of the first traditional primary, then South Carolina, first in the heavily Republican South.
But so far, the soon-to-be-official Haley presidential campaign has no staff or advisers—paid or pro bono—in Iowa or New Hampshire. At least that's the best The Dispatch could figure out after lobbing several calls into each state to ask dialed-in Republican insiders if they know who is helping Haley organize events. "I think they are cobbling it together with people they have on the team that have worked in New Hampshire," a veteran Republican operative in the state said.
Since leaving the Trump administration and launching her own political operation, Haley has been a sought-after surrogate and popular on the fundraising circuit. She regularly draws hundreds of activists and donors at party dinners and other events for endorsed candidates. But Haley's apparent decision to put staff at campaign headquarters in Charleston in charge of organizing her rallies and town hall meetings in Iowa and New Hampshire has raised eyebrows.
You're out of free articles
Create an account to unlock 1 more articles