Pence Looks to Iowa as 2024 Looms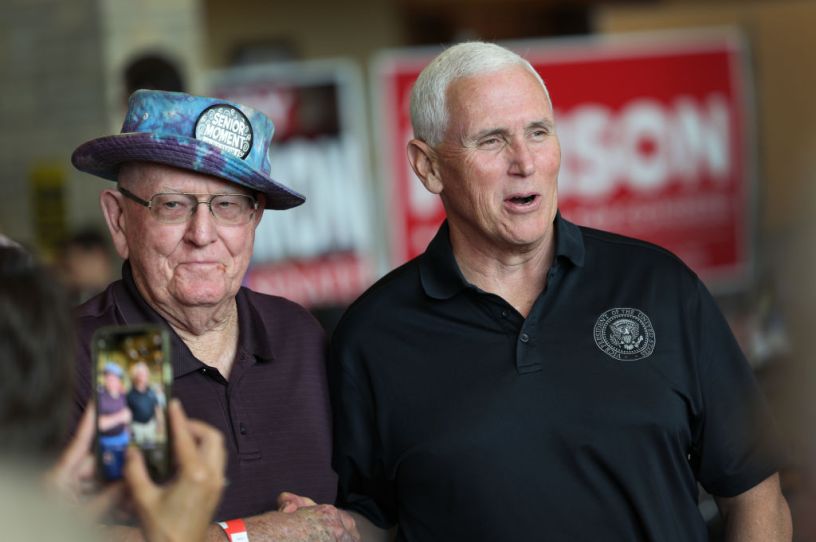 Former Vice President Mike Pence greets guests at a Republican lunch Waverly, Iowa, in August 2022. (Photo by Scott Olson/Getty Images)
Mike Pence is headed to Iowa the same day rival Nikki Haley is announcing her presidential bid. The former vice president will headline a grassroots rally and launch a statewide advertising campaign as part of a fresh foray into the key 2024 battleground.
Pence will begin next Wednesday in St. Paul, Minnesota, delivering a speech supporting Iowa parents suing a Linn County school district in federal court over its student gender-transition policies. Pence then will travel to Cedar Rapids, Iowa, to powwow with voters at a Pizza Ranch restaurant, a stop popular among Republican presidential contenders. He will use the event to launch a $1 million-plus effort by his political nonprofit organization to "combat the radical left's indoctrination of children."
"Advancing American Freedom will not rest until parental rights are restored in Iowa and across the nation," the former vice president said in a statement shared with The Dispatch.
For now, Donald Trump is the only declared major candidate in the 2024 presidential race. But Haley, Trump's former ambassador to the United Nations, will jump into the race next Wednesday with a late morning rally in Charleston, South Carolina, before heading to New Hampshire for two days of campaigning.