DeSantis an Early Darling for Conservative Education Activists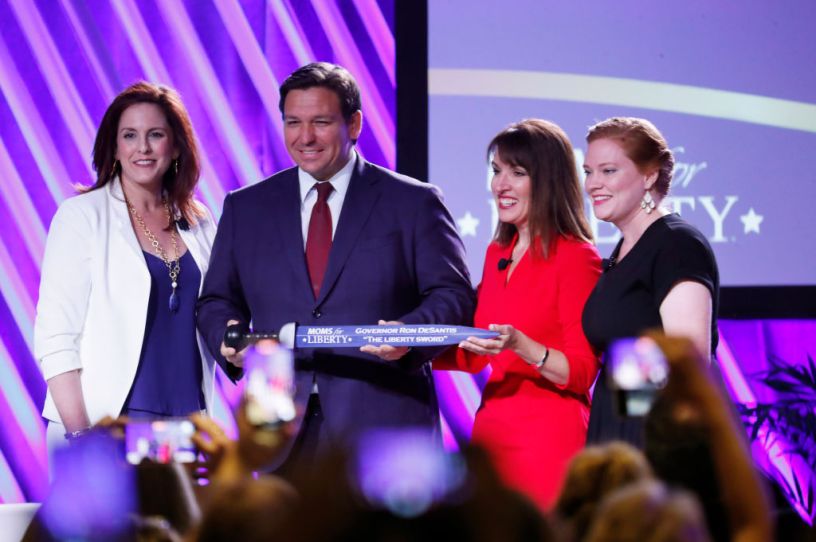 Moms for Liberty founders Tiffany Justice and Tina Descovich present an award to Florida Gov. Ron DeSantis before he speaks during the inaugural Moms For Liberty Summit on July 15, 2022, in Tampa, Florida. (Photo by Octavio Jones/Getty Images)
Iowa Republicans anticipating a Ron DeSantis presidential bid expect the Florida governor to tap into a growing network of conservative education activists organizing under Moms for Liberty, a grassroots group aligned with the 2024 contender and based in his home state.
Moms for Liberty is a political nonprofit with no plans to endorse in the Republican presidential primary. But the national group, which advocates for parental rights and opposes liberal social policies in public schools, has cultivated a symbiotic relationship with DeSantis since launching in Florida two years ago. It now boasts six chapters throughout Iowa, a potential hotbed of support for DeSantis in the state voting first on the GOP's 2024 nominating calendar.
"Whoever DeSantis hires should absolutely try and co-opt this group," said Luke Martz, a Republican consultant in the Hawkeye State.
Enlisting Moms for Liberty activists "makes total sense for DeSantis," said Republican strategist David Kochel, who has been a senior adviser to multiple GOP contenders competing in Iowa.