NRSC Banks on Dave McCormick to Run for Senate in Pennsylvania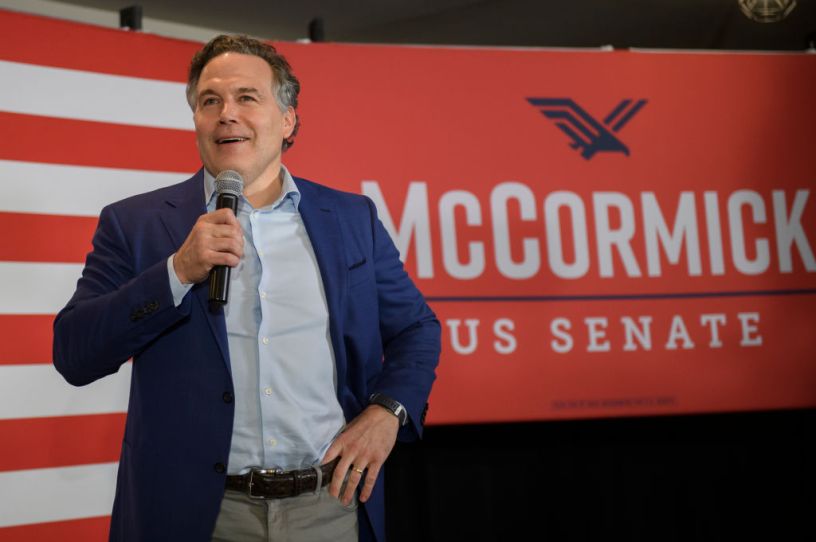 Dave McCormick during his Senatorial run on May 17, 2022 in Pittsburgh, Pennsylvania. (Photo by Jeff Swensen/Getty Images)
Happy Wednesday! When can we return to the good ol' days when the only time a president faced arrest was for speeding in a horse-drawn carriage?
Up to Speed
NRSC Pleads for a Dave McCormick Rerun in Pennsylvania
Speaking before an audience of deep-pocketed donors in Pittsburgh on May 24, Republican Sen. Steve Daines of Montana made a blanket plea: If you know Dave McCormick and his wife, Dina Powell, call them directly and "encourage" him to take on Democratic Sen. Bob Casey in 2024, according to two people familiar with his remarks.
"Beg!" an audience member called out, eliciting laughter from the Senate GOP campaign chairman and a tongue-in-cheek response agreeing that the audience members should, in fact, "beg" McCormick to run for Senate this cycle. A former hedge fund CEO, McCormick narrowly lost last year's Senate GOP primary to celebrity television host Dr. Mehmet Oz, who went on to lose the general election to Democrat John Fetterman.
Pittsburgh-area donor Rob Kania, who attended the National Republican Senatorial Committee fundraiser with Daines, says pro-McCormick sentiment is widespread in Republican circles in Pennsylvania ahead of his widely anticipated 2024 Senate campaign, though a timeline for his announcement remains unclear.