Pro-Choice Groups Take the Abortion Fight to Red States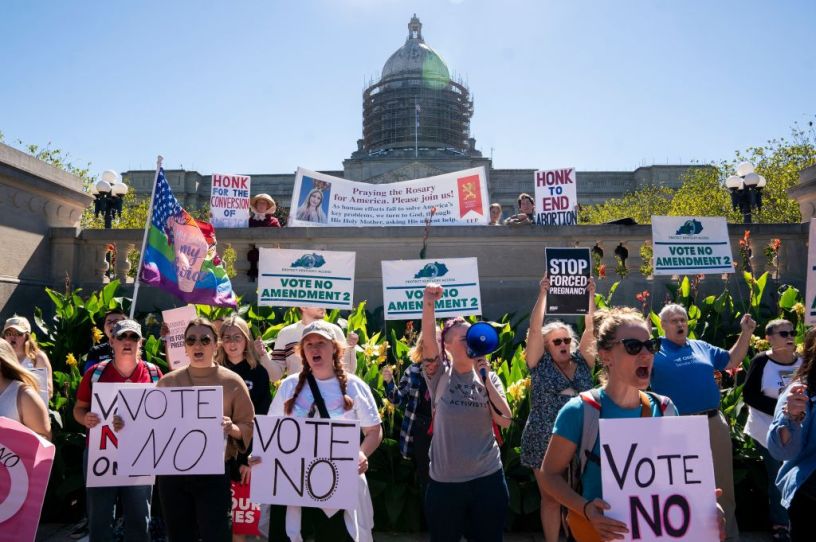 Pro-life and pro-choice protesters in front of the Kentucky state capitol on October, 2022. (Photo by Stefani Reynolds / AFP via Getty Images.)
Happy Wednesday! It's not the sort of thing you'll hear about from the Fake News types over at The Morning Dispatch, but the St. Louis Cardinals have beaten the Chicago Cubs twice this week and will go for the series sweep tonight.
Up to Speed
A federal jury in New York City on Tuesday found former President Donald Trump civilly liable for sexually assaulting and defaming magazine writer E. Jean Carroll after she alleged the former president raped her in a department store in the 1990s. The jury, however, did not hold Trump liable for the rape charges. Shortly after the verdict's announcement, which ordered Trump to pay Carroll $5 million, the former president said he plans to appeal. "I have absolutely no idea who this woman is. This verdict is a disgrace—a continuation of the greatest witch hunt of all time!" he wrote in a social media post. Expect to hear more on that front from the former president later today: He'll be appearing on a CNN town hall at 8 p.m. ET.
House Speaker Kevin McCarthy told reporters Tuesday that he "didn't see any new movement" over the debt ceiling standoff after he and other top congressional leaders met with President Joe Biden in the White House to discuss how to avoid a default. Democrats have signaled thus far that they won't get on board with legislation passed by the House GOP majority late last month that pairs a debt ceiling increase with spending cuts.
Florida Gov. Ron DeSantis cut ties this week with his state political committee, Friends of Ron DeSantis, the latest sign he's likely inching toward formally announcing his long-anticipated 2024 presidential campaign. Despite not being a candidate yet, the governor has racked up several notable presidential endorsements in recent days, including from GOP Rep. Bob Good of Virginia, a member of the House Freedom Caucus, and former Trump campaign strategy adviser Steve Cortes.
GOP Rep. George Santos of New York, the first-term congressman who has come under fire from members of his own party for fabricating his résumé, surrendered to federal authorities in Long Island Wednesday morning after the Justice Department filed criminal charges against him. The wide-ranging indictment charges Santos for wire fraud, money laundering, lying to the U.S. House of Representatives, and stealing public funds.
Democratic Sen. Dianne Feinstein of California returned to Washington on Tuesday, her office said, after spending roughly three months recovering from shingles in San Francisco. Feinstein, who is 89 years old and plans to retire next year, has faced growing criticisms about her declining mental acuity, and her absence had led some House Democrats to call for her resignation.
Senate Minority Leader Mitch McConnell told CNN this week that he views Montana, West Virginia, Ohio, and Pennsylvania as the Senate GOP's top four targets this cycle, an early indicator of the Democrat-held battlegrounds where McConnell's aligned super PAC, the Senate Leadership Fund, is likely to invest.
The North Carolina GOP announced Monday that it will host a number of declared and prospective presidential candidates at their annual three-day convention in June, including confirmed attendees Trump, DeSantis, and former Vice President Mike Pence.
Sen. Joni Ernst will host her ninth annual "Roast & Ride" gathering at the Iowa state fairgrounds on June 3. This year's event will feature Republican presidential contender Nikki Haley, the former ambassador and South Carolina governor. Ernst expects to welcome other GOP presidential candidates to her event, which features a motorcycle ride beginning at a dealership in Des Moines, followed by speeches and other political activities at the fairgrounds.
A 'Direct-Democracy End-Run' Around Pro-Life Legislatures
Pro-choice groups won a series of striking victories in last year's midterm elections, helping to defeat ballot measures backed by pro-lifers in a string of conservative states, from Kansas to Kentucky. This cycle, they're aiming even higher.
Even as GOP legislatures continue to pass new abortion restrictions, activists are pushing to place the question of abortion access directly in the hands of voters through proposed amendments to their state constitutions.
In Florida, where Gov. Ron DeSantis recently signed a ban on most abortions after six weeks of pregnancy, a coalition of groups that includes Planned Parenthood and the ACLU of Florida announced Monday they will attempt to place an amendment on the ballot codifying the old Roe v. Wade standard: no restrictions on abortion before fetal viability outside the womb or when abortion is necessary to protect the life or health of the mother, "as determined by the patient's healthcare provider."