Sununu Poised to Use Bully Pulpit in New Hampshire Primary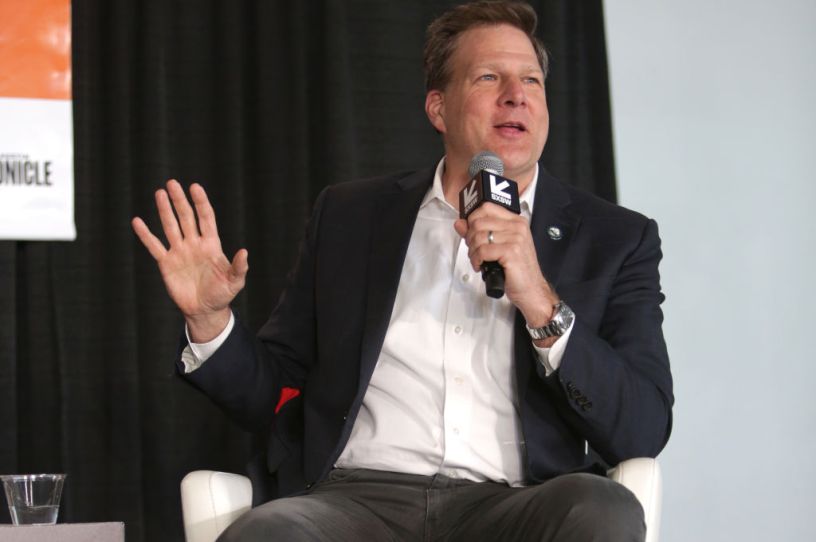 New Hampshire Gov. Chris Sununu speaks on the future of conservatism at the 2023 SXSW Conference and Festivals on March 12, 2023 in Austin, Texas. (Photo by Travis P Ball/Getty Images for SXSW)
Happy Monday! Locked doors, jiggled doorknobs, and a one-finger salute led to a physical altercation at a Michigan GOP state committee meeting on Saturday, the Detroit News reports. Clare County Republican Party Mark DeYoung says James Chapman, a Republican from Wayne County, was denied entry to the closed-door meeting. DeYoung also says Chapman "kicked me in my balls as soon as I opened the door" before slamming DeYoung into a chair.
"When you see me taking my glasses off, I'm ready to rock," said Chapman, who has a different telling of the events.
Up to Speed
In a CNN interview that aired Sunday, President Joe Biden said he is "an unyielding supporter of Israel" but the nation has "one of the most extreme members of Cabinets I've seen." Biden added about Prime Minister Benjamin "Bibi" Netanyahu's coalition: "It's not all Israel now in the West Bank, all Israel's problem, but they are a part of the problem, and particularly those individuals in the Cabinet who say, 'We can settle anywhere we want. They have no right to be here, etc. … And I think we were talking with them regularly, trying to tamp down what's going on and hopefully, Bibi will continue to move toward moderation and change."
Project Rescue America, a super PAC backing the reelection of GOP Sen. Rick Scott of Florida in 2024, announced that it "raised almost $1.2 million in its first quarter of operation after forming in April 2023," The Dispatch has learned. The super PAC reports more than $1.1 million on hand heading into the second half of the year.
Democrats are working to thwart a potential third party bid funded by the centrist political group No Labels, which could harm Joe Biden's reelection prospects. The progressive group MoveOn and center-left Third Way plan to brief Senate Democrat chiefs of staff on the risks associated with a third party campaign and "want to share some information that they have on No Labels," Politico reports. While No Labels contends polling "shows an overwhelming opening for a third-party ticket," detractors say No Labels is overstating its chances and that a third party would serve as a spoiler.
Iowa Republicans announced on Saturday that the party's presidential nominating caucuses will be held on January 15—Martin Luther King Jr. Day. "We see this as honoring the legacy of Martin Luther King in terms of having a caucus here," said Iowa Republican Party Chairman Jeff Kaufmann. Kaufmann noted committee members hadn't considered the possibility of the contest landing on the federal holiday before choosing the date.
Retired U.S. Army Capt. Sam Brown, who ran unsuccessfully for the Republican nomination for Senate in 2022, officially launched his Republican campaign to challenge Democratic Sen. Jacky Rosen in Nevada on Monday.
Actor Hill Harper announced Monday that he will seek the Democratic nomination for retiring Michigan Sen. Debbie Stabenow's seat in 2024. Rep. Elissa Slotkin has emerged as the early frontrunner in the Democratic field.
Sununu Readies for Role as Republican Heavy
CONCORD, New Hampshire—Gov. Chris Sununu is poised to wield his bully pulpit as the Granite State's top Republican to push weak GOP presidential candidates out of the 2024 primary. His plan: Engineer Donald Trump's defeat by allowing voters opposed to the former president to unify behind a single, formidable alternative.
Sununu says candidates have until sometime in November, roughly two months before the New Hampshire primary, to prove their viability. Around then, the governor is prepared to give them a shove—privately, but publicly if necessary—in an effort to avoid a repeat of 2016. In that contest, Trump was able to win the first traditional primary on the GOP calendar partly because voters opposed to him split their support among multiple candidates.
You're out of free articles
Create an account to unlock 1 more articles