The Heritage Foundation Heralds Its Populist Evolution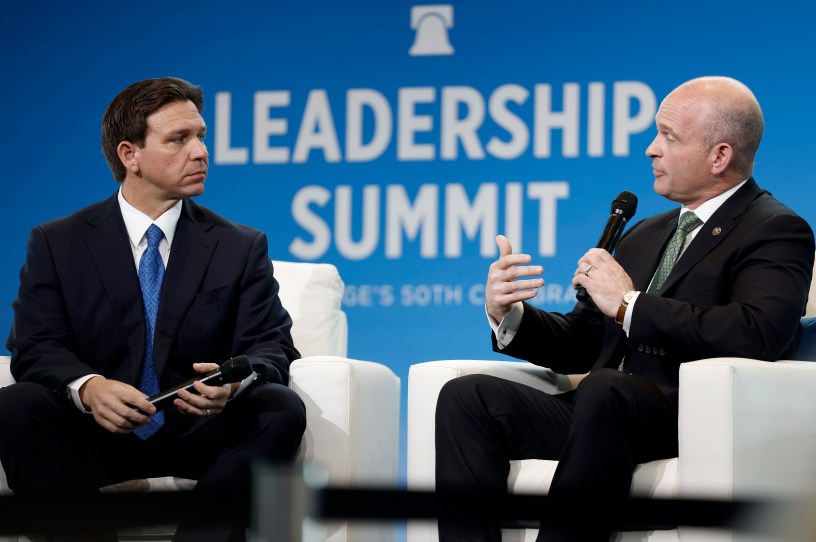 Florida Gov. Ron DeSantis speaks alongside Heritage Foundation President Kevin Roberts during the foundation's 50th Anniversary Leadership Summit at the Gaylord National Resort & Convention Center on April 21, 2023, in National Harbor, Maryland. (Photo by Anna Moneymaker/Getty Images)
Happy Monday! Only 12 percent of respondents in a recent Wall Street Journal-NORC poll said they are "very happy," the smallest share of "very happy" respondents on record since NORC started conducting its general social survey more than 50 years ago. But don't think your political foes are getting a better deal than you, the Journal's Aaron Zitner reports: "Neither political party claims a disproportionate share of the very happy."
Up to Speed
President Joe Biden, age 80, is reportedly gearing up to launch his long-anticipated 2024 reelection campaign via a video announcement on Tuesday, the four-year anniversary of his 2020 presidential campaign launch. "The people briefed on the plans, who spoke on the condition of anonymity to discuss private deliberations, cautioned that the official announcement could be delayed," the Washington Post reported on Thursday.
Robert F. Kennedy Jr.—the anti-vaccine activist, environmental lawyer, and son of the late Sen. Robert F. Kennedy—announced Wednesday that he will run for president in 2024, joining self-help author Marianne Williamson as the second candidate to challenge Biden for the Democratic presidential nomination this cycle.
Former Vice President Mike Pence told CBS' Face the Nation that if he decides to run for president in 2024, his announcement will come "well before late June." Pence will join Steve Hayes and Sarah Isgur on The Dispatch Podcast later this week.
West Virginia's Republican Gov. Jim Justice is gearing up to announce his long-anticipated bid for Democratic Sen. Joe Manchin's seat in 2024, Politico reported on Friday. A formal announcement on Thursday would kick off an expensive and closely watched GOP primary battle between Justice (an early favorite of the National Republican Senatorial Committee) and Club for Growth-backed Rep. Alex Mooney, who announced his Senate bid in November and has since racked up support from a handful of state legislators. Not that Justice is counting. "I'm really glad that there were — and I think you named three or four legislators who were supportive of Alex Mooney," Justice told MetroNews last week. "That means now that he's up to seven votes in the state, and I'm hoping he's going to get more than that and make this thing more fun if I decide to run."
RNC Chair Ronna McDaniel announced Thursday that the second GOP presidential primary debate will take place at the Ronald Reagan Presidential Library in Simi Valley, California.
North Carolina's GOP Lt. Gov. Mark Robinson officially launched his gubernatorial campaign on Saturday, joining Democratic Attorney General Josh Stein and Republican State Treasurer Dale Folwell in a crowded field to succeed Democratic Gov. Roy Cooper, who is term-limited.
Never Back Down, the pro-Ron DeSantis super PAC, is courting Republicans in the Iowa Legislature as it builds grassroots support for the Florida governor's presumed presidential bid, The Dispatch has learned. Sources say veteran Republican operative David Polyansky has been at the state capitol in Des Moines meeting with Republican legislators to encourage them to support DeSantis in 2024. Polyansky, who knows the political terrain in the key early primary states, is engaged in similar activities for Never Back Down in South Carolina. In 2016, Polyansky advised Texas Sen. Ted Cruz.
Heritage at 50
The Heritage Foundation celebrated its 50th anniversary last week with the triumphant message that the most prominent conservative think tank in Washington is fully aligned with the Republican party's recent embrace of nationalist populism.
In his opening remarks Thursday, Heritage President Kevin Roberts argued that the old conservative coalition was insufficient to face down today's "tyrannical, elitist, anti-America, anti-Constitution" left.
"Decades of frustration and failure have shown us that the old Washington red team of free marketers, neoconservatives, and evangelicals alone is simply not enough," Roberts said to the crowd of donors and notables at the Gaylord National Resort just outside of D.C.
You're out of free articles
Create an account to unlock 1 more articles