Trailing Trump, DeSantis Comes Out Swinging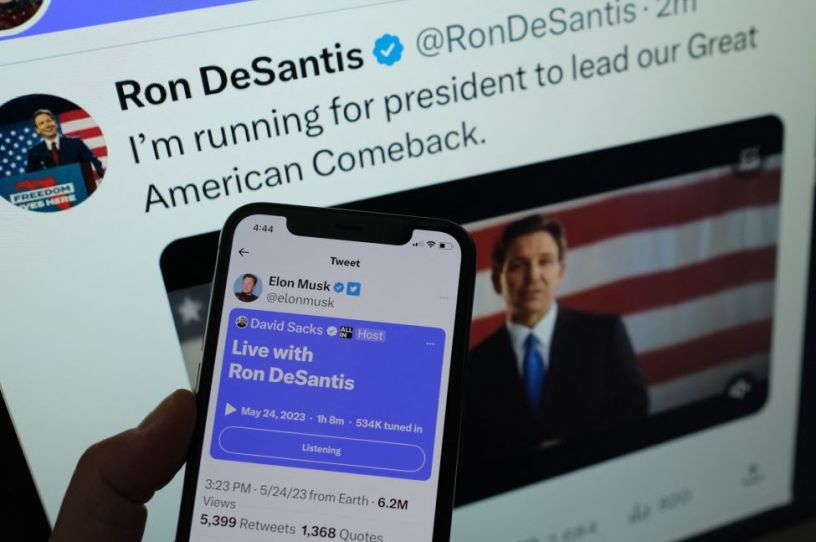 Illustration photo of Florida Gov. Ron DeSantis announcing his 2024 presidential run on his Twitter page on May 24, 2023. (Photo by CHRIS DELMAS/AFP via Getty Images)
Happy Friday! No Dispatch Politics Monday—we hope you have a pleasant Memorial Day and we'll see you in your inboxes on Wednesday.
Up to Speed
Florida Gov. Ron DeSantis officially announced Wednesday he is running for president, entering the contest as the top challenger to former President Donald Trump for the GOP nomination. The announcement, made in an audio-only Twitter Spaces conversation with Twitter owner Elon Musk and entrepreneur David Sacks, was delayed at first by a sequence of audio glitches. In a video posted afterward, DeSantis joked that the event "broke the internet." His campaign later said they brought in $8.2 million in the 24 hours following the announcement.
President Joe Biden and House Speaker Kevin McCarthy looked poised Thursday to raise the debt ceiling in exchange for cutting spending not related to military or veteran programs, though the deal hasn't been finalized yet.
Pennsylvania state Sen. Doug Mastriano announced Thursday he will not run for U.S. Senate against Democratic Sen. Bob Casey "at this time, at this moment, the way things currently are." Mastriano's apparent prior interest in the seat had alarmed some Republicans following his 14-point gubernatorial loss last year to current Gov. Josh Shapiro.
Shortly after Mastriano's news, hedge funder Dave McCormick released a statement of his own, thanking Mastriano for his military service before stating that "I am seriously considering a run for the U.S. Senate." McCormick was narrowly edged in last year's Pennsylvania Senate GOP primary by Dr. Mehmet Oz, who went on to lose to Democratic Sen. John Fetterman in November.
A Texas House committee voted unanimously Thursday to recommend articles of impeachment against Texas Attorney General Ken Paxton, charging him with offenses including bribery and obstruction of justice. Although Paxton became nationally notorious in 2020 for spearheading a lawsuit that attempted to throw out the election results in several battleground states won by President Joe Biden, his current predicament stems from allegations that he abused his office to help a political donor. If impeached by the House, Paxton would be removed from office while awaiting trial in the Senate.
DeSantis Takes the Fight to Trump
What a difference a campaign launch makes.
Florida Gov. Ron DeSantis used his first full day as a presidential candidate to pummel Donald Trump, responding to months of unanswered attacks and differentiating himself from a field of declared Republican contenders that has avoided confrontation with the former president.
In several interviews Thursday with conservative talk radio hosts, DeSantis essentially called Trump a loser, claimed he grossly mismanaged the coronavirus pandemic—and said he shared blame with President Joe Biden for the exploding federal debt and subsequent high inflation. The governor's comments, delivered on programs whose audiences are dominated by Trump supporters, were quickly amplified by his Tallahassee-based campaign, indicating his offensive against the former president was part of a premeditated strategy.