Trump's GOP Rivals Collectively Punt on the Indictment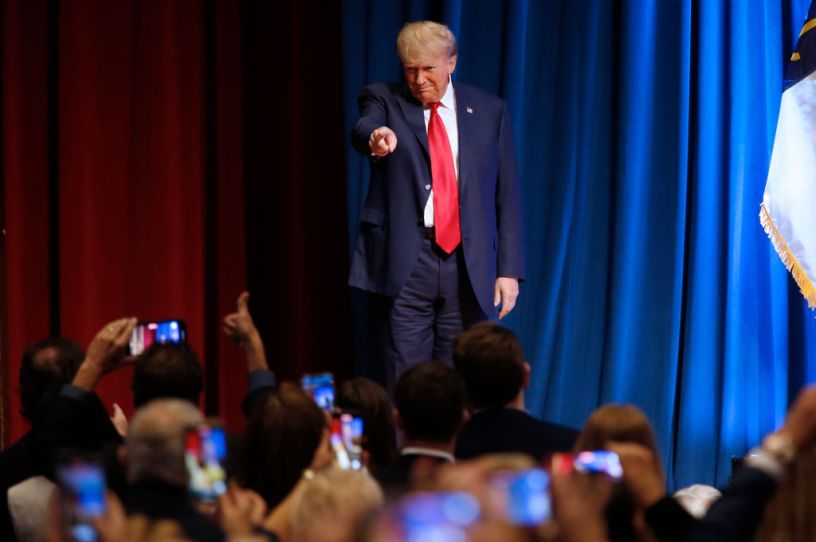 Former President Donald Trump at the North Carolina Republican Party convention on June 10, 2023. (Photo by Eamon Queeney for The Washington Post via Getty Images)
Happy Monday! Anything interesting happen since our last edition?
Up to Speed
The Justice Department unsealed its 37-count indictment against former President Donald Trump Friday. The charges accuse Trump of willfully retaining hundreds of highly classified documents in his Palm Beach home after leaving office and obstructing the federal government's efforts to retrieve them.
Speaking before a friendly audience at the Georgia Republican Party convention on Saturday, former President Donald Trump blasted the indictment "witch hunt" aimed at hurting his 2024 presidential campaign. The convention also featured speeches from 2022 gubernatorial candidate Kari Lake of Arizona, and Republican presidential candidates Asa Hutchinson and Vivek Ramaswamy.
North Carolina Republican delegates censured GOP Sen. Thom Tillis on Saturday at their party convention for breaking the party platform, a thinly veiled swipe at his voting record on legislation involving gay marriage, immigration, and guns. View the resolution here.
Oklahoma Gov. Kevin Stitt became the first fellow Republican governor to endorse Ron DeSantis' presidential campaign Saturday, announcing during a rally in Tulsa that he views the Florida governor as "the right guy to beat Biden for the next eight years."
The Indictment Speaks …
When we hit your inboxes Friday morning with news that former President Donald Trump was being indicted on federal charges, there were few specifics to share about the charges themselves. Later on Friday, the 37-count indictment was unsealed, revealing prosecutors' full account of how, they say, Trump illegally took classified documents from the White House to his Mar-a-Lago resort, stored them carelessly and unsafely in cardboard boxes scattered about that property and elsewhere, showed them off to people not cleared to see them on several occasions, and frustrated federal attempts to recover them prior to the FBI search at Mar-a-Lago last year.
Our colleagues at The Morning Dispatch have the full rundown, or you could read the indictment itself. But here's the gist: Having improperly taken dozens of documents containing sensitive national security information from the White House upon leaving office, Trump dragged his heels through repeated attempts by the National Archives and Records Administration to get them back. This forced the government to play hardball: Last May, they subpoenaed Trump for the rest of the documents' return.
But Trump doubled down. After first floating the idea of simply ignoring the subpoena, the indictment alleges, the former president agreed to let his lawyers search his papers for additional classified documents to hand back over—then tricked his own lawyers by moving a bunch of those papers from the storage room where they were being kept to his own personal residence.