Trump's Indictment and the Unknown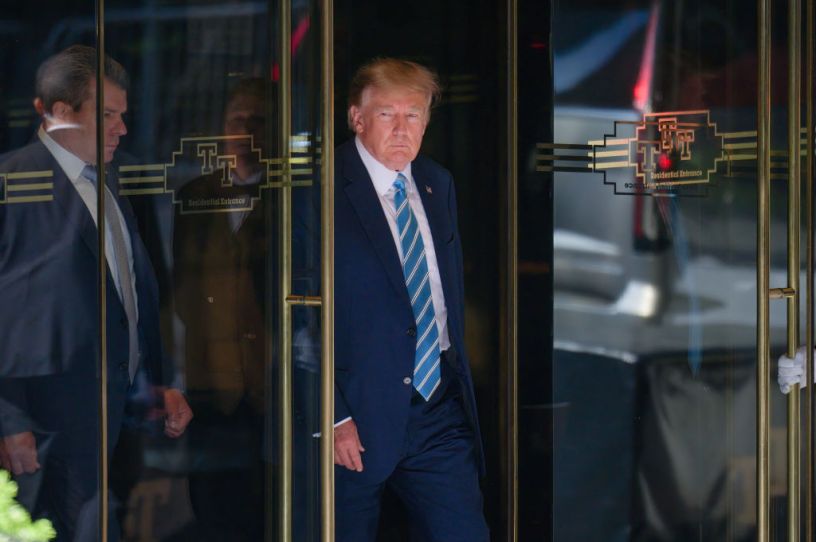 Former President Donald Trump leaving Trump Tower on May 31, 2023. (Photo by James Devaney/GC Images)
Happy Friday! We thought we knew how this newsletter was going to go: Former New Jersey Gov. Chris Christie stopped by The Dispatch office yesterday morning for an interview about his presidential campaign. Then the news dropped last night of former President Donald Trump's federal indictment for allegedly improperly retaining and mishandling classified documents. So look forward to hearing what Christie had to say next week!
Up to Speed (on the indictment)
Donald Trump said Thursday evening that he's been indicted in the special counsel investigation involving his handling of classified documents he took with him after leaving office, and that he has been summoned to appear in a federal district court in Miami on Tuesday at 3 p.m. The DOJ's move follows a Manhattan grand jury's decision in March to charge Trump with falsifying business records in connection with hush money payments made ahead of the 2016 election to porn performer Stormy Daniels. The charges in the classified documents case are not yet public, but the New York Times reported they are expected to include a violation of the Espionage Act, obstructing justice, and lying to investigators.
Prominent Republicans rallied around Trump even though the indictment is still under seal. They accused President Joe Biden's Justice Department of weaponizing the federal government against political opposition. "It is unconscionable for a President to indict the leading candidate opposing him. Joe Biden has kept classified documents for decades," House Speaker Kevin McCarthy said in a statement. Senate Minority Leader Mitch McConnell has so far remained silent.
The House GOP's campaign arm, the National Republican Congressional Committee, is already fundraising off the news: "The time is NOW for every PATRIOT like you to send a clear message that this injustice is unacceptable!" reads one fundraising text. "Will you be among the patriots who help House Republicans expose Joe Biden's DOJ for this absurd WITCH HUNT?"
Up to Speed (on the rest)
Trump Opponents Scramble to Respond to Indictment News
Donald Trump is being indicted again. The former president—as he wrote online and the press quickly confirmed—is facing seven federal charges. He allegedly mishandled federal documents after leaving office and impeded government attempts to reclaim them.
This bombshell news has been a long time coming: It was the classified documents investigation that prompted the FBI search of Trump's Florida resort, Mar-a-Lago, last year. Although Trump had told federal records keepers that his attorneys had examined his papers and returned everything classified he had removed from the White House, investigators found more than 100 documents marked classified in the search. In the following months, the courts repeatedly frustrated Trump's attempts to block the Justice Department from examining those records. Meanwhile, evidence emerged to suggest that failure was no accident: The Justice Department said it had obtained video footage, for example, of Trump staffers moving boxes containing government records around Mar-a-Lago before his attorneys did their voluntary sweep.
Trump attorney Jim Trusty told CNN Thursday that the central charge will come under the 1917 Espionage Act, which governs the mishandling of sensitive national defense information and specifically makes it a crime to "willfully [retain] the same and [fail] to deliver it to the officer or employee of the United States entitled to receive it." Other charges, Trusty said, will relate to obstruction of justice and making false statements to investigators.