Vivek Ramaswamy Explains How He'll Defeat Donald Trump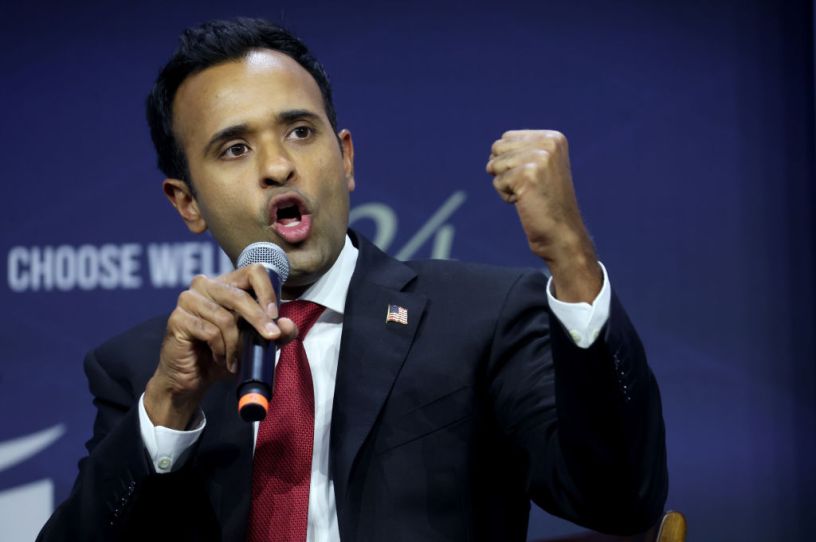 Republican presidential candidate Vivek Ramaswamy speaks at the Family Leadership Summit on July 14, 2023 in Des Moines, Iowa. (Photo by Scott Olson/Getty Images)
Happy Friday! Will you be seeing Barbie or Oppenheimer this weekend? Or will it be a #Barbenheimer double feature? Sen. Katie Boyd Britt, Republican from Alabama, got into the spirit of celebrating the dueling event movies of the summer on Twitter.
Up to Speed
Federal Judge Aileen Cannon has set May 20, 2024, as the date to start former President Donald Trump's classified-documents trial. That's nearly two months after the start date for Trump's trial in New York, and well after several of the 2024 presidential primaries—only six states and the District of Columbia have scheduled their nominating contests after May 20.
Are Joe Biden and Democrats at risk of having significant amounts of the Generation Z vote simply not show up in 2024? Democratic pollster John Della Volpe has warned the Biden campaign about this, Politico reports, and it's his belief voters under 30 are becoming jaded about participating in electoral politics. "I feel like it's a responsibility to ring this alarm now, when there's time to do something about it," Della Volpe tells Politico. "These voters gotta buy into the values of the party and the candidates … and to appreciate the fact that politics can make a difference. You can't do that in a full-week ad buy after Labor Day."
After declining to run for Senate in 2022 and declining to join the GOP presidential race in June, New Hampshire's popular Republican Gov. Chris Sununu announced Wednesday he won't run for reelection. "Public service should never be a career, and the time is right for another Republican to lead our great state," he tweeted. Sununu will remain governor of the key presidential primary state until January 2025. "I'm gonna be an aggressive proponent of everybody else" besides Trump, Sununu added on Thursday. "He's yesterday's news."
On Wednesday, former New Jersey Gov. Chris Christie criticized fellow GOP presidential hopeful Florida Gov. Ron Desantis for saying it's "possible" the FBI or DOJ might interfere with his campaign. "If Ron DeSantis is concerned that there's something in his background that would lead the DOJ or the FBI to be looking at him, that's probably something he should talk to us all about," said Christie. "Otherwise, stop speculating about this stuff."
After stepping down from House leadership last year, there are whispers about whether Nancy Pelosi intends to keep her seat, according to Politico. The former speaker raised $3.5 million during the first half of this year, but she's left Democrats unsure of her electoral plans. "The rules of engagement for the average politician just do not apply to Nancy Pelosi," said Todd David, an adviser to California State Sen. Scott Wiener, a potential successor to Pelosi. "She has earned the right and the privilege to do things on her own timeline."
Alabama Democrats are protesting congressional maps passed by the state's Republican-controlled legislature, arguing they defy a federal court order to create two districts with close to a majority black voting-age population. Alabama State Rep. Chris Pringle, the Republican sponsor of the House map under consideration, said he believes "in my heart of hearts" that his map complies with the Voting Rights Act. The federal court's three-judge panel could reject the legislature's maps and draw its own plan if the court determines lawmakers did not comply with its order, according to the Washington Post.
'Going Further Than Trump': Ramaswamy Reveals Plan to Defeat Frontrunner
ALEXANDRIA, Virginia—Vivek Ramaswamy is boldly predicting victory in the Republican primary, saying he'll win by dethroning Donald Trump among grassroots conservatives presumed to constitute the bedrock of the former president's loyal voting base.
"At this point, I actually expect to be the nominee. I couldn't have told you that in February or March. But that's my conviction today," the 37-year-old, wealthy biotechnology entrepreneur from Ohio says. Ramaswamy's strategy? "Persuasion. I believe that human beings are not animals; and we are subject to a thing that probably the last president to use it was [Ronald] Reagan—to actually persuade people to believe something different than they once believed."
The underdog White House hopeful offered his audacious theory of the case Wednesday during an intimate lunch with a handful of journalists just across the Potomac River from Washington. Ramaswamy, so far running a presidential campaign financed primarily by his vast personal fortune, says he's willing to spend $100 million of his own money to see his plan through, although that sum is not a hard cap. "That wouldn't be crazy," he says of spending even more of his own cash.