What the Wisconsin Supreme Court Race Tells Us About 2024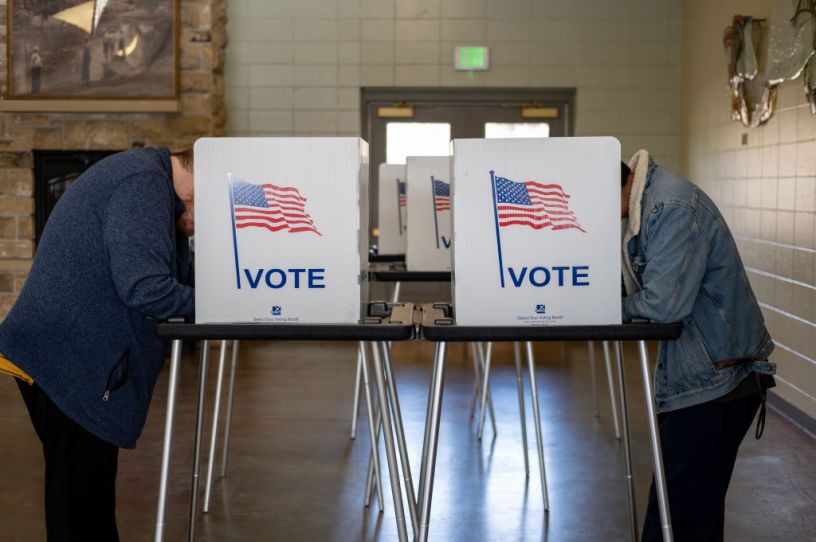 Wisconsin voters cast their ballots on November 8, 2022, in Madison. (Photo by Jim Vondruska/Getty Images)
Happy Wednesday! Donald Trump may be the first American president to be indicted. But he isn't the first to be arrested. "Ulysses S. Grant, who had an eye for spirited horses and an apparent yen to test their mettle, was arrested in 1872 for speeding on a street in Washington, where he had been driving a two-horse carriage," according to the New York Times. "The Grant episode apparently wasn't reported in the press at the time, but it came to light in 1908 when The Sunday Star of Washington published an interview with the then-retired officer who pulled the 18th president of the United States over."
Up to Speed
Days after being indicted on 34 counts of falsifying business records by a New York grand jury, Donald Trump appeared in Manhattan court Tuesday to enter his not guilty plea. After traveling back to Mar-a-Lago, the former president on Tuesday night gave a defiant speech to a crowd of supporters that included former Arizona gubernatorial candidate Kari Lake, Reps. Marjorie Taylor Greene and Matt Gaetz, and MyPillow CEO and election conspiracy theorist Mike Lindell. "These radical left lunatics want to interfere with our elections by using law enforcement," Trump said. "We can't let that happen."
Democratic Sen. Jacky Rosen of Nevada announced Monday morning she will run for reelection in 2024. A Republican insider in the Silver State tells The Dispatch the party is still searching for a consensus top-tier recruit to challenge the first-term incumbent.
West Virginia's three-term Attorney General Patrick Morrisey, a Republican, announced Tuesday he will run for governor in 2024. "I'm the only proven conservative in this race," Morrisey said at his launch event in Harpers Ferry. "I have delivered on big projects and I know how to drain the swamp." Morrisey had reportedly been evaluating whether to enter the governor's race or to challenge Sen. Joe Manchin, as he did unsuccessfully in 2018. Reports that Republican Gov. Jim Justice intends to run against Manchin likely motivated Morrisey to look at the governor's mansion instead.
Former Secretary of State Mike Pompeo was in Ukraine this week. Pompeo broke with his old boss Donald Trump, arguing in a Twitter thread Tuesday that helping Kyiv should be a priority. "Supporting Ukraine isn't about abstract ideals like 'global democracy': it's about strengthening OUR national and economic security," wrote Pompeo. "If Putin wins, he'll control critical exports to the U.S. And he'll be on the brink of a broader war in Europe." Pompeo is mulling a 2024 bid for president.
Roy McGrath, a 53-year-old former aide to former Maryland Gov. Larry Hogan wanted by federal authorities on corruption charges, died in Tennessee Monday after a confrontation with the FBI. McGrath, who had been indicted in 2021 on charges of fraud and embezzlement, became a fugitive last month after he failed to appear in court to begin his trial. The FBI said it was reviewing the circumstances of McGrath's death, about which few public details have been released.
North Carolina state Rep. Tricia Cotham announced she was changing her party affiliation from Democrat to Republican Wednesday morning, a sudden mid-session flip that gives state Republicans a supermajority to overcome vetoes from Democratic Gov. Roy Cooper.
Liberal Candidate Prevails in Crucial Wisconsin Court Contest
The Republican Party under the titular leadership of former President Donald Trump continues to falter at the ballot box—this time in an election that handed liberals a majority on the Wisconsin Supreme Court.
With Trump dominating national headlines Tuesday while being arraigned in New York, Democratic Party-aligned Janet Protasiewcz quietly romped to victory in Wisconsin, a 2024 battleground, in the technically nonpartisan race for a seat on the state Supreme Court. Protasiewcz defeated the GOP-aligned Dan Kelly 55.5 percent to 44.5 percent. Republicans blamed several factors: a moribund state party and lack of resources; Kelly's flaws as a candidate; and swing voters motivated to preserve abortion rights.
Indeed, abortion mattered in the Supreme Court contest in Wisconsin. But it was Trump who loomed over the race, as he did over midterm elections five months ago. The latter campaign finished with Democrats defending their hold on governor's mansions in Michigan, Pennsylvania, and Wisconsin, growing their majority in the U.S. Senate and only narrowly losing control of the House of Representatives. And all of this happened under the specter of deep anxiety about the economy, rising crime and dissatisfaction withPresident Joe Biden.