Will Glenn Run?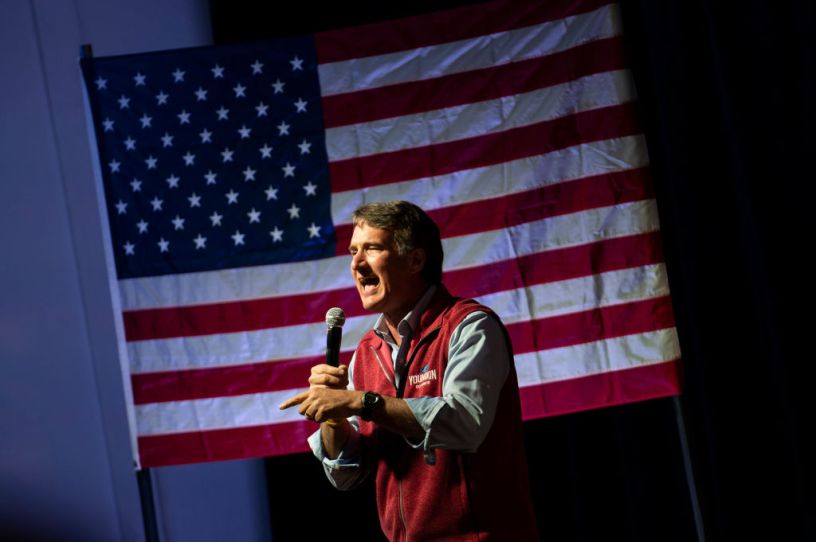 Virginia Governor Glenn Youngkin speaks at a rally in Triangle, Virginia, last November. (Photo by Sarah Silbiger / Getty Images.)
Happy Wednesday! Marianne Williamson launched her bid for the Democratic presidential nomination only a few days ago, and she's got a ways to go. A Morning Consult poll this week found Biden clinging to a 73-point lead over his challenger—for now.
Up to Speed
January 6 is back in the news after House Speaker Kevin McCarthy gave Tucker Carlson thousands of hours of previously unseen footage from the Capitol riot. A bevy of Republican senators pushed back on Carlson's narrative this week after the Fox News host played down the seriousness of the attack on his show. Capitol Police Chief Thomas Manger decried Carlson's "offensive and misleading conclusions" in a letter obtained by NBC News.
Former President Donald Trump, by contrast, took to Truth Social to demand the government "LET THE JANUARY 6 PRISONERS GO," arguing that "THEY WERE CONVICTED, OR ARE AWAITING TRIAL, BASED ON A GIANT LIE, A RADICAL LEFT CON JOB." Trump added that members of the congressional committee that investigated January 6 "should be tried for Fraud and Treason."
Oklahoma voters on Tuesday overwhelmingly voted down a measure that would have legalized recreational cannabis use statewide. The state's loose and widely used medical marijuana program, which was implemented by referendum in 2018 and does not require proof of a pre-existing medical condition, was not affected by the vote.
Republicans Study the Youngkin 2024 Tea Leaves
Glenn Youngkin, who rose to prominence after defeating Democratic former Gov. Terry McAuliffe in 2021, has done just enough to keep the embers of a potential 2024 bid glowing. Yet the Republicans closest to the Virginia governor aren't sure he intends to run—or wants to.
Republican donors who attended a meet-and-greet with Youngkin in New York last week exited the event believing the governor is inclined to stand down. Youngkin did not rule out running. But the governor left the impression that any possible campaign was months away—that he is hyper-focused on running Virginia and wants time to assess the 2024 primary field.
"He did not sound like an all-in candidate," a Republican insider present for the Manhattan gathering said. "He's sort of testing the waters."