With Abortion Comments, Trump Hands DeSantis Iowa Opportunity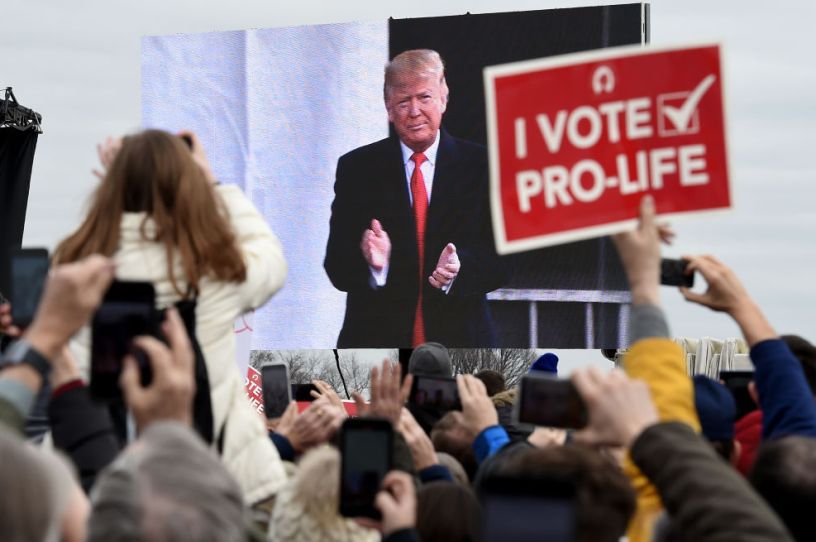 Pro-life demonstrators listen to former President Donald Trump as he speaks at the 47th annual "March for Life" in Washington, DC, in January 2020. (Photo by OLIVIER DOULIERY/AFP via Getty Images)
Happy Wednesday! We hope you approach your day with the same open-minded spirit shown by New Hampshire state Rep. Juliet Harvey-Bolia, who's been in the news this week after she appeared on separate presidential endorsement lists for both Donald Trump and Ron DeSantis. No mix-up there, Harvey-Bolia told NBC News: "DeSantis has a lot of promise for the future, and Trump is great now."
Up to Speed
Trump, DeSantis Lean Into Abortion Contrast
Last month, we filled you in on the sharp disagreements about abortion policy that are currently preoccupying the Republican Party at the highest levels. Now these disagreements are becoming a flashpoint among the party's top presidential contenders, with implications for the Iowa caucuses and beyond.
On Monday, former President Donald Trump took a shot at Florida's new six-week abortion ban, which was recently signed into law in Florida last month by Ron DeSantis. "If you look at what DeSantis did, a lot of people don't even know if he knew what he was doing," Trump told the Messenger. "But he signed six weeks, and many people within the pro-life movement feel that that was too harsh."
DeSantis punched back at a Tuesday news conference, pointing out that Trump, a Florida resident, had declined to say whether he would have signed the same bill. "Protecting an unborn child when there's a detectable heartbeat is something that almost 99 percent of pro-lifers support," he said.