Do Pro-Lifers Have a Plan?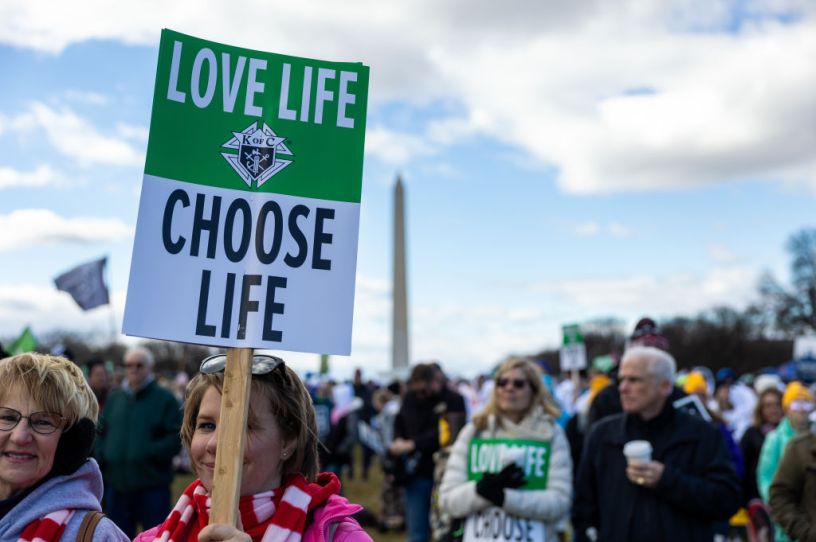 Pro-life supporters gather on the National Mall in Washington, D.C., ahead of the March for Life on January 20, 2023. (Photo by Nathan Posner/Anadolu Agency/Getty Images)
Happy Wednesday! We're thrilled to announce that Weekly Standard and CNN alum Mike Warren is joining the Dispatch team. Give him a Twitter follow here.
Up to Speed
Sen. Tim Scott keeps taking steps toward a presidential bid. The South Carolina Republican announced the launch of a new exploratory committee Wednesday with a slick video filmed at Fort Sumter, the site of the first shots fired in the Civil War. "Today, our country is once again being tested," Scott said in the video, timed for release on the anniversary of that battle. "Once again, our divisions run deep and the threat to our future is real. Joe Biden and the Democrats have chosen a culture of grievance over greatness."
A super PAC supporting Florida Gov. Ron DeSantis has made a key hire in Iowa, a crucial early caucus state in the race for the Republican nomination. Sources tell The Dispatch Never Back Down has tapped GOP operative Sophie Crowell, who until recently worked for Rep. Ashley Hinson, a second-term Iowa Republican from Cedar Rapids. Under federal election law, Crowell could seamlessly transition to a DeSantis presidential campaign, should the governor run, as is widely expected. (Never Back Down declined to comment.)
Pinal County Sheriff Mark Lamb, a Republican, filed paperwork on Monday to run for Arizona Sen. Kyrsten Sinema's seat in 2024. That Senate contest is shaping up to be one of the most chaotic in the country: Progressive Democratic Rep. Ruben Gallego hopped into the race in January, and a host of Republicans are eyeing bids, including former GOP gubernatorial candidate and election-denying MAGA darling Kari Lake, Lake's former primary opponent Karrin Taylor Robson, and former Senate candidate Blake Masters.
The Democratic National Committee has picked Chicago to host the party's 2024 presidential primary convention. "The convention will take place Aug. 19-22 next year," the Chicago Sun-Times reported. "It is expected to draw 5,000 to 7,000 delegates and alternates and attract up to 50,000 visitors to Chicago." (Strange things can happen when national Democrats descend on Chicago—we're keeping our eyes peeled for a reprise of the 1996 clapping video.)
Democratic Sen. Tammy Baldwin of Wisconsin announced Wednesday that she will run for reelection in 2024. A Redfield and Wilton poll ahead of the 2022 midterms gave Baldwin an even 34-34 approval rating in the state; the Cook Political Report rates the race Lean Democratic.
Republican businessman Bernie Moreno filed paperwork on Monday to run for U.S. Senate in Ohio next cycle, joining state Sen. Matt Dolan in the Republican field to take on Democratic Sen. Sherrod Brown in 2024. An official announcement from Moreno is expected next week, NBC News reports.
Former Rep. Harley Rouda is exiting the race to succeed Rep. Katie Porter in California's 47th District after suffering a brain injury after a fall in March. The Democrat said he expects to make a full recovery but is dropping his campaign on the advice of doctors. The Democratic-leaning 47th District, anchored in Orange County, is being vacated by Porter, the popular progressive who is running for retiring Sen. Dianne Feinstein's seat.
Three-term Democratic Rep. Jennifer Wexton said in a video announcement on Tuesday that she has been diagnosed with Parkinson's disease. Wexton said the disease is primarily affecting her speech, gait, and balance but that Parkinson's is not "an untreatable disease, cognitive impairment, or death sentence" and that she hopes to continue serving in Virginia's 10th Congressional District "for many years to come."
'Republicans Need to Figure Out the Abortion Issue ASAP'
As they head into the 2024 presidential cycle, anti-abortion activists are having a tough time figuring out how good they should be feeling.
On the one hand, they're less than a year removed from Dobbs v. Jackson Women's Health—the Supreme Court case that slew their 50-year white whale, Roe v. Wade, permitting a patchwork of "trigger law" abortion restrictions to slam into place across the country. Meanwhile, sympathetic judges and legislators continue to chip away at abortion's remaining legal edifice. Last week, a Trump-appointed U.S. district judge in Texas issued a ruling ostensibly striking down the decades-old federal authorization of the abortion drug mifepristone, likely setting up another abortion-related showdown before the 6-3 conservative court. And Florida Gov. Ron DeSantis, who signed a ban on abortions after 15 weeks in his first term, is planning to sign a more restrictive six-week ban with exceptions for victims of rape and incest this month.
On the other hand, a growing heap of data suggests that the reemergence of abortion restrictions at the ballot box has provoked a huge backlash among today's electorate. In last year's midterms, Democrats rode an abortion-access message to better than expected results despite strong economic headwinds and the unpopularity of President Joe Biden. Meanwhile, the pro-choice side prevailed in every state where abortion itself was on the ballot—not only in blue enclaves like California and Michigan, but even in ruby-red places like Kansas and Kentucky. Last week, a state Supreme Court election in purple Wisconsin showed this electoral sentiment continues to burn hot: Liberal candidate Janet Protasiewicz, who campaigned heavily on the issue of abortion access, defeated conservative Dan Kelly by 11 points to give liberals a majority on the court.